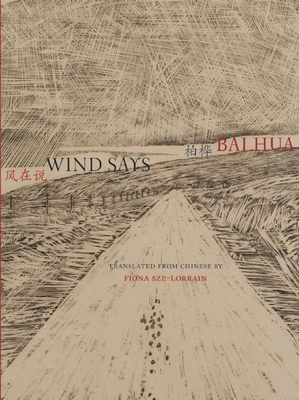 Wind Says (Jintian)
Paperback

* Individual store prices may vary.
Description
"Subtle and compelling, Bai Hua is among the best in contemporary Chinese poetry."--David Der-wei Wang, Harvard University
"Fish"
Unfathomable, the fish can't sing
swimming from silence to silence
It needs things, it needs to speak
but it stares blindly at a stone
The strength of endurance is too precise
Senility urges it to walk the road of kindness
What is it? Image of a people
or an act of soundless immersion?
The face of grievance veers toward shadow
the silence of death toward error
Born as metaphor to clarify a fact:
the throat where ambiguous pain begins
Considered the central literary figure of the post-Obscure (post-"Misty") poetry movement during the 1980s, Bai Hua was born in Chongqing, China, in 1956. After graduating from Guangzhou Foreign Language Institute, he taught at various universities before working as an independent writer. His first collection of poems, Expression (1988), found immediate critical acclaim. A highly demanding writer, Bai Hua has a small but selective poetic output: between the mid-'80s and 2007 Bai Hua wrote fewer than one hundred poems, most of which continue to command a large audience across China. After a silence of more than a decade, he began writing again in 2007. This bilingual selection is a comprehensive overview of Bai Hua's writing career.
Fiona Sze-Lorrain writes and translates in French, English, and Chinese. Her recent work includes Water the Moon (Marick Press, 2010). Co-director of Vif ditions and one of the editors at Cerise Press, she is also a zheng concertist.
Zephyr Press, 9780983297062, 184pp.
Publication Date: February 26, 2013
or
Not Currently Available for Direct Purchase