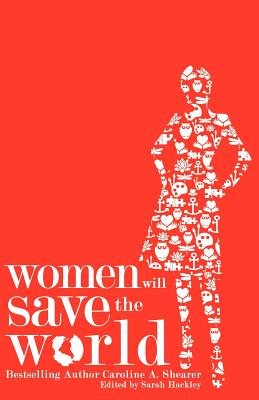 Women Will Save the World
Paperback

* Individual store prices may vary.
Description
Leading women across the nation celebrate the feminine nature through stories of collaboration, creativity, intuition, nurturing, strength, trailblazing, and wisdom in "Women Will Save the World." Inspired by a quote from the Dalai Lama, bestselling author and Absolute Love Publishing Founder Caroline A. Shearer brings these inherent feminine qualities to the forefront, inviting a discussion of the impact women have on humanity and initiating the question: Will Women Save the World? At the Vancouver Peace Summit in September 2009, the Dalai Lama announced, "The world will be saved by the Western woman." Shearer was struck by the profound implications of this statement and immediately felt drawn to explore the subject. Shearer joins essays from modern-day Olympians, Billboard-topping musicians, visionary media professionals, artists, authors, and more with profiles of historical women, such as Mother Teresa, Harriet Tubman, and the founder of Junior League, who each saved the world in their own ways."Women Will Save the World" Features Dozens of essays from leading women across the nation Profiles of historical women who saved the world through the feminine qualities of collaboration, creativity, intuition, nurturing, strength, trailblazing, and wisdom Affirmations to help strengthen these inherent feminine qualities Little-known historical timeline with examples of how women have already saved the world in myriad ways.Women whose essays appear in the book include Kathleen Aston, Mary Ellen Ciganovich, Jenny Craig, Leslie Davenport, Rochelle Forrest, Sally Franz, Terry Grahl, Sarah Hackley, Elizabeth Harper, Michelle Hastie, Catrice Jackson, Kiva Leatherman, Sue Lee, Carmel Maguire, Katie McCorkle, Shannon Miller, Shirley W. Mitchell, Kate Neligan, Gayle Newhouse, Kathryn Peters-Brinkley, Dea Shandera, Becky Sheetz-Runkle, Lorelei Shellist, Beverly Solomon, Dr. June Stinchfield, Alicia Vargo, Donna Visocky, Ten Williams, and Amethyst Wyldfyre.
Caroline A. Shearer, 9780983301721, 204pp.
Publication Date: March 6, 2012
About the Author
Caroline A. Shearer is the founder of Absolute Love Publishing, which was born out of a mission to create and publish projects promoting goodness in the world. Known as a fresh, distinctive, spiritual voice, Caroline's visionary leadership is uplifting, gently blending love and inspiration. She is regularly featured as a luminary in print, broadcast, and online media, offering guidance and sharing positive stories of her personal spiritual journey toward a more abundant, joyful, and light-filled life. Intuitively guided, Caroline has a remarkable ability to unite others along a path of progressing and celebrating the experience of humanity. A bestselling author, Caroline's popular books include, "Dead End Date," the first book in the Adventures of a Lightworker metaphysical mystery series; "Love Like God: Embracing Unconditional Love;" "Love Like God Companion;" "Raise Your Vibration: Tips and Tools for a High-Frequency Life," a min-e-book(TM), and "Women Will Save the World." In addition to her own projects, she founded Spirited Press, an assisted self-publishing imprint that operates under the umbrella of Absolute Love Publishing. Spirited Press supports authors in sharing their own messages with the world.