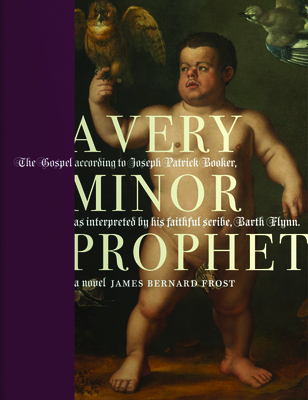 A Very Minor Prophet
Paperback

* Individual store prices may vary.
Description
A Very Minor Prophet is the story of how Barth Flynn, a barista swimming upstream against purposelessness in Portland, Oregon, becomes the faithful scribe of Joseph Patrick Booker. Booker is a dwarf preacher who serves Voodoo donuts, Stumptown coffee, and, while his congregation throws PBR cans at him, rants about George W. Bush during the height of the 2004 presidential election. Barth's Portland is a world of bikes, zines, and cheap beer, but it's also a confined world, full of the desperate search to find meaning. In this lonely setting, Barth passes time learning trivial details, like the dozens of Gaelic words for rain. During Barth's quest for human connection, he meets the passionate Booker, who sees light in the gray world and strives to help people think and believe in something and to find connections with each other. Barth's fascination with Booker becomes a friendship that comes to define his life, as he discovers himself, his city, and his budding feelings for an enigmatic bike messenger who helps distribute Booker's gospel in the form of zines. A Very Minor Prophet is a comic novel, a gospel, an ode to great coffee, a story of great friendship, great love, and of a man waking up in Portland, Oregon, to realize his life and his story is just beginning.
Praise For A Very Minor Prophet…
BUCKING A HEADWIND of despair, Frost pedals his verbal bicycle into the belly of the Beast, only to return bearing a brand-new Gospel illuminated with Voodoo cream and composed in the edgy vernacular of Portland's thriving freak scene. TOM ROBBINS, author of Villa Incognito

TO DATE ONLY GUS VAN SANT has depicted the grim, dim, greasy, cramped world of Portland, Oregon. Now James Bernard Frost has given us the best novel, ever, about this strange underground world of misfits and heroes. CHUCK PALAHNIUK, author of Tell-All

A VALENTINE TO coffee and bikes and rain. It's a love story between an aimless twenty-something zinester who finds his purpose in a dwarf prophet, and a tattooed tough-girl bike messenger with OCD and a teddy bear collection. CHELSEA CAIN, author of The Night Season

WITH ALL THE POETRY and skill of a deranged art collector, James Bernard Frost has thrown the zine scene, bumper sticker theocracy, bicycle pirates and hipster love into a coffee grinder of awesome. G. XAVIER ROBILLARD author of Captain Freedom: A Superhero's Quest for Truth, Justice, and the Celebrity He So Richly Deserves
Hawthorne Books, 9780983304982, 200pp.
Publication Date: April 3, 2012
About the Author
JAMES BERNARD FROST is the author of the novel World Leader Pretend, and the award-winning travel guide The Artichoke Trail. His fiction and nonfiction has been published in many places, including the San Francisco Examiner, the San Francisco Bay Guardian, and Wired. He lives in Oregon with the author Kerry Cohen, their four children, the rain, the freaks, and the trees. His bike is currently in disrepair.
or
Not Currently Available for Direct Purchase