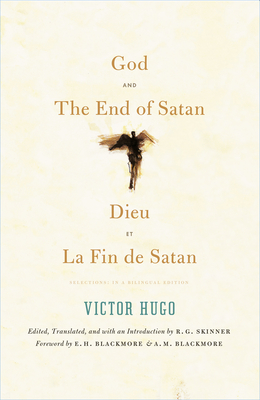 God and The End of Satan / Dieu and La Fin de Satan
Selections: In a Bilingual Edition
Paperback

* Individual store prices may vary.
Description
While living in exile with his family on the Channel Islands off the coast of Normandy, Victor Hugo wrote some of his greatest poetry and prose, including Les Misérables and two epic poems: Dieu and La Fin de Satan. Dieu pictures the imaginary search for God by a nameless protagonist, who must face the possibility of failure in this quest. La Fin de Satan, an indictment of prison, war, and capital punishment, depicts an attempt at reconciliation between good and evil.

This book brings together abbreviated editions of these two book-length poems—unfinished and unpublished at the time of the author's death—comprised of selections that capture their visionary and mystical essence. The poems are accompanied by an introduction framing them within the author's experience as an exile and tracing their publication history.

Victor Hugo is one of the most important figures in the history of French literature, and this beautifully rendered translation brings two of his lesser-known works deservedly to the forefront.


Praise For God and The End of Satan / Dieu and La Fin de Satan: Selections: In a Bilingual Edition…
"R. G. Skinner's carefully edited texts and clear translations allow the overall structure of both books to be followed in a single volume. . . . English-language readers now have access to everything that Hugo earmarked for publication in Dieu and nearly everything that he earmarked for publication in La Fin de Satan—as well as a considerable amount of material that he drafted for these projects but published in other forms or not at all. The most serious gap in English translations of Hugo has now been filled."

— E. H. and A. M. Blackmore, from the foreword

"These late works—rendered into English by R. G. Skinner—are the culminating achievement of a writer who constantly wrestled at the intersection of the head and the heart, and there at that crossroads tried to find avenues into the deepest reaches of humanness. Reminiscent of William Blake's late mythologies and Leo Tolstoy's final 'mystical' period, they should be read for their insight into Hugo's art, for the artistry that emerged from the mixing of intellectual memory and aging desire in this engaged artist and intellectual, and for the subject itself: the universe of good and evil."

— Harold Augenbraum, executive director of the National Book Foundation and editor of The Collected Poems of Marcel Proust

"R. G. Skinner's edition of Victor Hugo's epic poems Dieu and La Fin de Satan not only significantly contributes to Hugo scholarship—it also offers general English-language readers Hugo's provocative insights about God and evil. One of the greatest, most influential French poets, Hugo found himself 'enveloped in poetry amid rocks, meadows, roses, clouds, and the sea' during his long exile. There, contemplating the ocean and working to understand God and what may come after death, Hugo drafted these two stunningly modern, visionary poems. Skinner's serious research on the poet's experiences and thoughts underpins his engaging introduction, informative glossary, and detailed notes. His clear, poetic translations of key selections from these poems will considerably further our understanding of Hugo's lifelong exploration of infinity.

— Marva A. Barnett, University of Virginia, author of Victor Hugo on Things That Matter

"When Hugo died, he left behind two unfinished epic poems of nearly 6,000 lines each. . . . Reminiscent of The Divine Comedy and Paradise Lost in their vision and epic sweep, [God and The End of Satan] are among the poet's most ambitious works. . . . Skinner worked for fifteen years on this translation. In order to respect the powerful imagery of each line, he transformed Hugo's rhymed couplets into a particular kind of prose organized as verse or free verse. The resulting volume includes key selections of both poems in a beautifully illustrated bilingual edition. It transports the reader into a rarefied sphere of celestial spirits, fallen angels, blinding light, and terrifying darkness. . . . Recommended."
— Choice

"This monumental, bilingual edition reconfirms Hugo's status as one of the greatest poets in history. . . . Stylistically unsurpassed, always deploying a rich vocabulary to question infinity and eternity, Hugo is perhaps the only poet who could reach perfection so easily and so constantly, as proven in these poignant pages. This edition of "God" and "The End of Satan" from Swan Isle Press should be part of all academic and public libraries."
— Nineteenth-Century French Studies
Swan Isle Press, 9780983322047, 528pp.
Publication Date: March 1, 2014
About the Author
R. G. Skinner is an independent scholar and poet.


Victor Hugo (1802–85) was a great French playwright, novelist, poet and statesman. He is the author of Les Misérables and The Hunchback of Notre Dame.
or
Not Currently Available for Direct Purchase