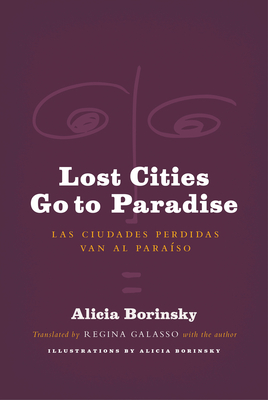 Lost Cities Go to Paradise
Las Ciudades Perdidas Van al Paraíso
Paperback

* Individual store prices may vary.
Description
In Lost Cities Go to Paradise, poetry breaks into song and poetic prose becomes lively storytelling as Alicia Borinsky raises intimate questions about the fragility of contemporary life. Composed of many layered scenes, unforgettable characters, snapshots, and vignettes, this collection of quick-witted poems and short fiction mixes deceit and conceit with moments of tenderness and the elusive nature of humanity, asking if identity is more than a festival of masks and self-invention.
           
At the center of Borinsky's work are the cities, which are a masquerade of disaster and spectacle that moves through space and time. Within these cities reside a man with two bills who gives three out of generosity, a woman who hides her face so that she may be better seen, cheating lovers who betray only to end up entwined in a tango, and immigrants who borrow each other's accents. Filled with energy and irreverence, Lost Cities Go to Paradise captures the indignities and excitement of living among others in a society and discovering what is valued—and all that is not.
Praise For Lost Cities Go to Paradise: Las Ciudades Perdidas Van al Paraíso…
Succinct like a boxer's jab, the poems in Lost Cities Go to Paradise strike their target with surprising precision, often capturing a moment or a fleeting thought before moving on to the next piece. Borinsky weaves the political, the personal, the social, and the trivial into her verse with equal vigor, unveiling a rich tapestry of life in the contemporary world when considered as a whole.
 
— World Literature Today

"Alicia Borinsky's witty poems unsettle us by making us see the things that are most familiar with new eyes. No one understands how these poems work better than Regina Galasso. Lost Cities Go to Paradise is a tour de force, the product of a collaboration between a poet and a scholar/translator each at the top of their game."
— Charles Hatfield, Center for Translation Studies, University of Texas at Dallas

"Tough city broads, wayward waifs, and other urban fauna bump and howl in Alicia Borinsky's rough and tumble prosaic poems of Lost Cities vigorously translated by Regina Galasso with the author."
— Suzanne Jill Levine, University of California-Santa Barbara
Swan Isle Press, 9780983322078, 193pp.
Publication Date: August 15, 2015
About the Author
Alicia Borinsky is professor of Latin American and comparative literature and directs the Writing in the Americas program at Boston University. Her recent publications include Golpes Bajos/Low Blows.
 
Cola Franzen has collaborated with Alicia Borinsky in the translation of several of her books, among them Golpes Bajos/Low Blows, Sueños del seductorabandonado/Dreams of the Abandoned Seducer, and Mina cruel/Mean Woman. She lives in Cambridge, Massachussetts.

Regina Galasso is assistant professor of comparative literature in the Department of Languages, Literatures, and Cultures at the University of Massachusetts Amherst.
or
Not Currently Available for Direct Purchase