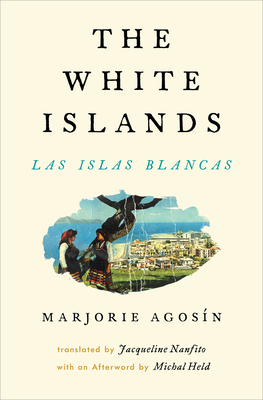 The White Islands / Las Islas Blancas
Paperback

* Individual store prices may vary.
Description
"I only wanted to write about them, / Narrate their fierce audacity, / Their voyages through the channels of the Mediterranean." So begins a poetic journey through the islands of the Mediterranean that served as homes and refuge for the Sephardic Jews after the Alhambra Decree, which ordered their expulsion from Spain. Inspired by her own journey to Salonika and the Greek Islands, Rhodes, Crete, as well as the Balkans, Marjorie Agosín searches for the remnants of the Sepharad.

Presented in a beautiful bilingual Spanish-English edition, Agosín's poems speak to a wandering life of exile on distant shores. We hear the rhythm of the waves and the Ladino-inflected voices of Sephardi women past and present: Paloma, Estrella, and Luna in the fullness of their lives, loves, dreams, and faith. An evocative and sensual voyage to communities mostly lost after the Holocaust, The White Islands offers a lighthouse of remembrance, a lyrical world recovered with language and song, lament and joy, longing and hope.
Praise For The White Islands / Las Islas Blancas…
"Agosín takes up a sacred flame, a solemn trust, in this audacious book of journeys, this dreamy, precise, urgent, and heartrending Jewish testament."
— Edward Hirsch, author of Gabriel: A Poem, president of the John Simon Guggenheim Memorial Foundation

"I've read Agosín's stunningly beautiful poems with tears in my eyes and with awe in my heart. At once a lament about the loss of Sefarad and a celebration of all that lives on in word and song and women's memories, this book is a unique testament to a people, a culture, and a seascape. Marjorie Agosín is the best Jewish Latina poet writing today and these poems are a gift to all readers who are traveling, as she puts it, 'through ambiguous geographies.' If you read only one poetry book, read this one, it will make your spirit soar, I promise you."
— Ruth Behar, author of Traveling Heavy: A Memoir in between Journeys

"This bilingual edition of verse is a triumph of the imagination as Chilean-born Marjorie Agosín retraces the exile of the Sephardic Jews from Spain after the Alhambra Decree in 1492. Agosín's soaring lines are a testament to the resiliency of all who have left one home in search of the next as well as the peculiar beauties of the Mediterranean."
 
— World Literature Today

"The White Islands / Las Islas Blancas evokes the vibrancy of those banished Sephardic communities, especially of the women, who carried their faith, language, and traditions, along with a profound love of life, to their new homes. Rich in metaphor and euphony, this bilingual compilation, beautifully translated from the Spanish by Jacqueline Nanfito, consists of individual lyrical gems, yet reads like one long narrative poem."
— Bárbara Mujica

"Las islas blancas / The White Islands is an imaginative act of witness, evoking pity and terror, the inhumanity of men, the beauty of nature, and the tragedies of the Jewish people."
— Review: Literature and Arts of the Americas

"This collection allows the read er to take on that feeling of being a stranger, opening the reader's mind to that of the poet herself. This transferable numinousness makes for powerful, open work. Ultimately, these poems are prayers, archipelagic, of remembrance — and prayers for a new home, shining white, found at sea."
— Jewish Book Council
Swan Isle Press, 9780983322092, 224pp.
Publication Date: August 15, 2016
About the Author
Marjorie Agosín is professor of Spanish at Wellesley College and a human rights activist. She has written several volumes of poetry, essays, novels and criticism, among them Tapestries of Hope, Threads of Love and Cartographies.
Lori Marie Carlson is a lecturer in the Department of English at Duke University. She is the author of Cool Salsa, The Sunday Tertulia, and a number of award-winning books for young adults.
Jacqueline Nanfito
is professor of Spanish in the Department of Modern Languages and Literatures at Case Western Reserve University.
or
Not Currently Available for Direct Purchase