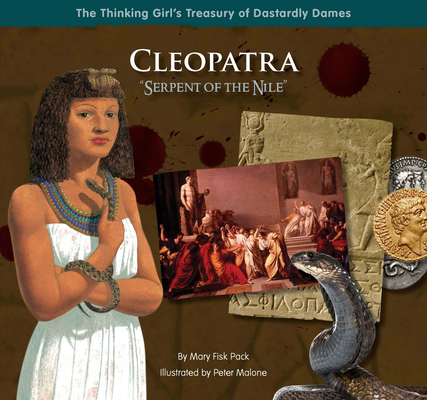 Cleopatra "Serpent of the Nile" (Hardcover)
Goosebottom Books, 9780983425601, 28pp.
Publication Date: October 3, 2011
Description
The richest, most powerful woman in the world, Cleopatra ruled the East and tamed the West. With both cunning and charm, she beguiled two of the most famous men in history, entwining Egypt's destiny with Rome's. Many believed she was as sly as a serpent. Or was she just smart? Gorgeous illustrations and an intelligent, evocative story bring to life a real dastardly dame who, despite her schemes, lost everything--including her beloved homeland.
About the Author
Mary Fisk Pack has been an elementary school teacher for over twenty years. In addition to being a teacher, she is a writer. She writes curricula, but what she really loves to write are children's books, especially creative nonfiction picture books about interesting people, times, and places. Mary lives with her family in Northern California. Peter Malone has illustrated over twenty children's books for such publishers as Chronicle, Knopf, Putnam, Running Press, and Scholastic. In addition to creating gorgeous illustrations, he wrote the book, Close to the Wind, about the use of the Beaufort scale for measuring wind force at sea. School Library Journal called it "informative and utterly charming." He lives in Bath, England, with his wife, a restorer of paintings, and their two grown daughters.
Advertisement