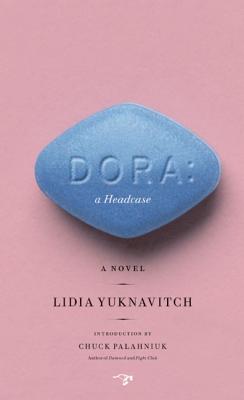 Dora
A Headcase
Paperback

* Individual store prices may vary.
Description
Dora: A Headcase is a contemporary coming-of-age story based on Freud's famous case studyretold and revamped through Dora's point of view, with shotgun blasts of dark humor and sexual play.

Ida needs a shrink . . . or so her philandering father thinks, and he sends her to a Seattle psychiatrist. Immediately wise to the head games of her new shrink, whom she nicknames Siggy, Ida begins a coming-of-age journey. At the beginning of her therapy, Ida, whose alter ego is Dora, and her small posse of pals engage in "art attacks." Ida's in love with her friend Obsidian, but when she gets close to intimacy, she faints or loses her voice. Ida and her friends hatch a plan to secretly film Siggy and make an experimental art film. But something goes wrong at a crucial momentat a nearby hospital Ida finds her father suffering a heart attack. While Ida loses her voice, a rough cut of her experimental film has gone viral, and unethical media agents are hunting her down. A chase ensues in which everyone wants what Ida has.
Praise For Dora: A Headcase…
Praise for Lidia Yuknavitch's DORA: A HEADCASE:

"Hold a basketball under water, take your hand away, and it'll surface with the powerhouse force of the suppressed. Welcome to Lidia Yuknavitch's world. In Dora: A Headcase, Yuknavitch reimagines the girl, the woman, at the heart of Sigmund Freud's breakthrough case study and unleashes this character's fury against a backdrop of hypocritical adulthood. Yuknavitch is talking back to a hundred years, to the founding of psychoanalysis. I'd like to think she wrote parts of this novel just for me, but so many readers will feel that way. Yuknavitch has wrestled with the force of her own convictions and given a powerful voice to a badass character born on the literary landscape."
MONICA DRAKE author of Clown Girl

"Dora is too much for Sigmund Freud but she's just right for usraunchy, sharp and so funny it hurts."
KATHERINE DUNN author of Geek Love

"In these times there's no reason for a novel to exist unless it's dangerous, provocative and not like anything that's come before. Dora: A Headcase is that kind of novel. It's dirty, sexy, rude, smart, soulful, fresh and risky. Think of your favorite out-there genius writer; multiply by ten, add a big heart, a poet's ear, and a bad girl's courage, and you've got Lidia Yuknavitch."
KAREN KARBO, author of How Georgia Became O'Keeffe

"Dora: A Headcase is first and foremost an irreverent portrait of a smart seventeen year old trying to survive. It channels Sigmund Freud and his young patient Dora and is both a hilarious critique and an oddly touching homage. With an unerring ear and a very keen eye, Lidia Yuknavitch casts a very special slant of light on our centuries and our lives. Put simply, the book is needed."
CAROLE MASO author of Defiance and The Art Lover

"Snappy and fun. I can pretty much guarantee you haven't met a character quite l like Ida before."
BLAKE NELSON author of Girl and Paranoid Park

"In Dora, [Lidia Yuknavitch] takes the most classic model of Thera-tainment, personal-crisis-as-content, and she re-imagines it wonderfully reversed. The world of Dora is not just possible, it's inevitable. It's revenge as the ultimate therapy."
From the introduction by CHUCK PALAHNIUK author of Damned

"When about to plummet to our deaths or fly we speak in a language all our own. Dora: A Headcase is a feminist retelling of Freud's famous case study, Dora. But the novel constantly transcends this conceit in beautiful and surprising ways. Sure there's literary discourse and feminist asides, feats of craft and vision, but in the end Yuknavitch drives narrative the way rednecks drive muscle cars. Right across your lawn without respect to boundaries. If Ida is a little scary to some readers, it's only because we've forgotten that nothing is scarier than a teenage girl. They whisper things we don't want to hear that sometimes cutting is an act of freedom, like meditating without sleep, or starving yourself for the parallel bars. Also, that it's damn hard to do the right thing when you're in a dangerous conversation with the universe, one meant for god's ears alone. Personally as someone whose teen years were hellish, I was floored by the softness and raw sorrow in Ida's voice, which Yuknavitch braided in with the anger. It felt more real, more like the girls I knew and was, than any other coming of age narrator. Put simply, Yuknavitch has written the best portrait of teen girlhood I have ever read. I loved this bookit's like a smart, fast chick Fight Club. In twenty years, I hope to wake up in a world where Dora: A Headcase has replaced Catcher in the Rye on high school reading lists for the alienated. I'm pretty sure that world would be a better one."
VANESSA VESELKA, author of Zazen

Praise for Lidia Yuknavitch's THE CHRONOLOGY OF WATER:

The Oregonian, Best Books of the Year, 2011

Willamette Week, Top 10 Portland Books From 2011

Portland Mercury, Best Portland Book Releases of 2011

Art Faccia, Best Books of 2011

The Nervous Breakdown, Best Books of 2011

LitReactor, The Best Books of 2011

Flavorwire,The 10 Best Memoirs of 2011

The InDigest Awards: J.M. Owen's 2011 YIR

JMWW, Best of 2011: Robert Vaughan Lays Down His Cards

The chapter, "Love Grenade," included in BEST SEX WRITING 2012, SUSIE BRIGHT, Compiler, and RACHEL KRAMER BUSSEL, Editor.

"These fierce life stories gleam, fiery images passing just beneath the surface of the pages."
DIANA ABU-JABER, author of Origin: A Novel

"The kind of book Janis Joplin might have written if she had made it through the fire - raw, tough, pure, more full of love than you thought possible and sometimes even hilarious. This is the book Lidia Yuknavitch was put on the planet to write for us."
REBECCA BROWN, author of The Gifts of the Body

"...All sex scenes were shit, except for the sex written by Lidia Yuknavitch."
FROM THE INTRODUCTION BY CHELSEA CAIN, New York Bestseller and author of Evil at Heart

"This intensely powerful memoir touches depths yet unheard of in contemporary writing."
ANDREI CODRESCU, author of The Poetry Lesson

"Reading this book is like diving into Yuknavitch's most secret places, where, really, we all want memoir to take us, but it so rarely does. The reader emerges wiser, enlightened, and changed."
KERRY COHEN, author of Loose Girl: A Memoir of Promiscuity

"The book is extraordinary."
CHUCK PALAHNIUK, author of Pygmy

"The book is immensely impressive to me on a human level."
DAVID SHIELDS, author of Reality Hunger: A Manifesto

"This is the book I've been waiting to read all of my life."
CHERYL STRAYED, author of Wild

"This isn't a memoir about' addiction, abuse, or love: it's a triumphantly unrelenting look at a life buoyed by the power of the written word."
PUBLISHERS WEEKLY

"Hot, gritty, unrelenting."
DEBRA GWARTNEY, The Oregonian

"Artfully described in prose that's as spare and beautiful as a diver slicing through the water."
FOREWORD REVIEWS

"Her sharp prose-witty, jarring, worthy of dogearing- alternates between gleeful postmodern exercise and wrenching elegy. So honest and unapologetic is her writing that you can practically hear her sigh in catharsis as you turn the pages."
MOLLY LABELL, Bust

"The Chronology of Water is powerful and beautifully writteneven the tough parts.
BRIDGET KINSELLA, Shelf Awareness

"Yuknavitch's nonlinear memoir that is at times lyrical, at times conversational, and almost always intense."
ANCA SZIAGYI, Ploughsares

"It's war in there. I'm going back in."
JEN GRAVES, The Stranger

"It's a sputteringly good read."
ALISON BARKER, Chicago Reader

"It's worth your attention."
ALISON HALLETT, The Portland Mercury

"Lidia Yuknavitch's The Chronology of Water might well turn out to be the best book of the year; it's unlike anything I've read before, and I haven't been able to forget it."
MICHAEL SCHAUB, Bookslut

"Tragedy, abuse, oceanic booze consumption, and rated-X sexiness. And Ken Kesey, of course."
PORTLAND MONTHLY

"Yuknavitch has a powerful personal story to tell, and she does this in surprising ways."
JAMIE PASSARO, PNBA Northwest Book Lovers

"I fucking loved this book."
ROXANE GAY, HTMLGIANT

"Exhaustively compelling."
EMILY GROSVENOR, Eugene Magazine

"The Chronology of Water is a vital booka book that will be, as Kafka famously demanded, the axe for the frozen sea within you."
KIRSTY LOGAN, Pank Magazine

"Her story is haunting, touching, and heartbreaking."
RICHARD THOMAS, The Nervous Breakdown

"Chronology is about the resiliency of the human heart and its ability to piece itself back together, over and over."
VANESSA NIX ANTHONY, Portland Woman Magazine

"The Chronology of Water is simply an unapologetic story about life."
RENEE E. D'AOUST, The Collagist

"Yuknavitch gives new, rich meaning to the by-now-familiar idea of a fluid sexuality."
AMY MCDANIEL, Paste Magazine

"One of the strongest memoirs I have had the pleasure to encounter. Don't miss this book."
DAVID ATKINSON, The Rumpus

"I'm not sure I've ever had such a powerful, complex reaction to a book. The Chronology of Water is astonishingly beautiful, and, as a writer, Yuknavitch is a force. Her writing hits you, hard. It rocks you. She knocked me over with passages so brilliant, so true, I had to reread them over and over until I could bear to let them go in order to move on to the next paragraph."
MEGAN ZABEL, Powell's Books

". . . brave and breathless memoir . . . vivid storytelling."
LOS ANGELES REVIEW OF BOOKS

"I cannot fathom of a list of the ten best books of the year that does not include Lidia Yuknavitch's The Chronology of Water . . . one of the most stunning books I've ever read and undoubtedly the best book I read in 2011."
ROXANE GAY, The Rumpus

"Her language, inventive and sparse, is determined to leave its readers spinning in realness, the physical grit of being present as a woman and as a human being."
NINA LARY, Bitch
Hawthorne Books, 9780983477570, 237pp.
Publication Date: August 7, 2012
About the Author
LIDIA YUKNAVITCH IS THE AUTHOR of "The Chronology of Water: A Memoir" and three works of short fiction: "Her Other Mouths, Liberty's Excess, " and "Real to Reel, " as well as a book of literary criticism, "Allegories of Violence."

Her work has appeared in "Ms., The Iowa Review, Exquisite Corpse, Another Chicago Magazine, Fiction International, Zyzzyva, " and elsewhere. Her book "Real to Reel" was a finalist for the Oregon Book Award, and she is the recipient of awards and fellowships from Poets and Writers and Literary Arts, Inc. Her work appears in the anthologies "Life As We Show It" (City Lights), "Forms At War" (FC2), "Wreckage of Reason" (Spuytin Duyvil). Yuknavitch teaches writing, literature, film, and Women's Studies in Oregon.