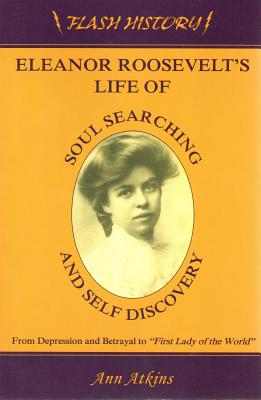 Eleanor Roosevelt's Life of Soul Searching and Self Discovery (Paperback)
From Depression and Betrayal to First Lady of the World
Flash History Press, 9780983478409, 169pp.
Publication Date: October 1, 2011
Other Editions of This Title:
Compact Disc (10/1/2011)
* Individual store prices may vary.
Description
Transforming the power in Eleanor's story to your story starts now. Whatever the scale of your rendezvous with destiny, the fact remains it is up to you to live it. Eleanor's story is a do-it-yourself guide that shows us how to accomplish many things. From a childhood plagued with drunks and drama queens, Eleanor must now discard her dependency on Franklin and face off with her grand dame mother-in-law. Refusing to cave in to society's rules, Eleanor's exuberant style, wavering voice, and lack of Hollywood beauty are fodder for the media. First Lady for thirteen years, Eleanor redefines and exploits this role to a position of power. Using her influence, she champions Jews, African Americans, and women. The audacity of this woman to live out her own destiny challenges us to do the same. After all, it's not about Eleanor. Her story is history. Her life shows us how to live.
About the Author
As a college instructor (master's degree from Boston University), community director, counselor, mother, and wife, Ann Atkins uses the stories and struggles of historical figures to give guidance and inner strength to classes, clients, kids, and herself. Her concise delivery in Eleanor Roosevelt's Life of Soul Searching and Self-Discovery gives readers relevant information to enlighten their own journey. Taking the information from the pages to our personal life is the challenge. After all, it's not about their story, that's history. It's about us.
Praise For Eleanor Roosevelt's Life of Soul Searching and Self Discovery: From Depression and Betrayal to First Lady of the World…
In this inspirational biography, Atkins highlights Eleanor Roosevelt s struggles and success.   No boring academic history, this lively book delivers the essentials of Eleanor s life but also engages readers to consider their own challenges and opportunities. As Atkins says, Eleanor is history. It s about us.
 Dick Munson, author of From Edison to Enron and Cousteau: The Captain and His World
As a life coach seeking relevant resources for my clients or for my own introspection, Atkins writes Eleanor Roosevelt s life story as a quick guide for our own journey. In an age of multi-tasking this book delivers both education and inspiration which conserves our most valuableresource   time. Susan McCauley, CPC www.MidlifeClarity.com
Imagine my surprise.
I wasn't expecting to enjoy this book. I wasn't expecting to fly through it in two days, either. But I did both. Quick and easy to read, this biography of Eleanor Roosevelt is part of the "Flash History" series. The book is formatted into four sections. Each section has a "Flash - Context and Comments" section which gives some of the political flavor and backstory to what was going on during this time in history. The chapters about Eleanor follow, and each section closes with "Reflections for the Reader."It seems as if this book may be meant for a high school or college class, and the reflections are a way to spark discussion. Some try to tie Eleanor's life to modern times and events. What I enjoyed most about this book was how the author made Eleanor so accessible to the reader. She was a regular woman with insecurities, struggles, and a great need to be loved. Her childhood is something out of a Jane Austen novel. Even her marriage to FDR has its fair share of turmoil. When you hear about Eleanor Roosevelt in a history class, you think of a stuffy, dignified character. It seems as if she was anything but stuffy. Not afraid to speak her mind and stand up for her beliefs, Eleanor was a truly inspirational woman. It was also eye-opening for me to read about the civil rights causes that she championed. Particularly with race relations and the lynchings that took place during her time. It's horrific to think that these things happened not that long ago in history. Peppered throughout the book are quotes from Eleanor's writings, which in themselves are great words to live by. Here is an example: "Friendship with oneself is all-important, because without it one cannot be friends with anyone else in the world." I recommend this book to all women who want to be inspired, and those who want to learn more about a remarkable former First Lady. If you do order the book, I recommend that you do so through http://www.annatkins.com/. The author, Ann Atkins, will donate $1 to charity for each order placed. It seems like something Eleanor herself would smile upon.  -Literary R&R Review
Summary:See how this remarkable woman learned to forge her own way in life even when the odds were against her. See how she stood on her own two feet and did things her way at a time when that was never what a woman was supposed to do.
I am a huge fan of Eleanor Roosevelt, so I was very interested to read Ann Atkins' book. Having read several books on Eleanor's life I was curious to see what new things I would learn about this amazing woman. The book starts by introducing your to her parents and their world of wealth and high society. This helped me to have a better understanding of how Eleanor was raised. Her childhood was one of neglect and put downs. She was not the pretty, outgoing child her mom had wanted. Eleanor learned to stay in the background as a way of protecting herself from being embarrassed by derogatory comments made in front of her.
The brightest spot in her world was her father who, unfortunately, was seldom with her. Being an alcoholic lead him to make many promises, but seldom kept them. After her mother's death, her grandmother decides to send Eleanor to a private school. This was her saving grace. She flourished and made many friends. One of her teachers took Eleanor under her wing and gave her love and encouragement. Eleanor proved to be a good student, made many friends, enjoyed discussing politics and finally learned to express her own opinions. This was not a trait that was approved of in the world she returned to.
Meeting and marrying Franklin was a happy time except for his overbearing mother Sara Roosevelt. She doted on Franklin and continued to manipulate him throughout her life. Eleanor had six children, but sadly lost their third child . Depression set in. Sara Roosevelt ran the household from choosing the place they lived to picking out furniture and continued on undermine Eleanor's place as a mother. Sara spoiled the children, showering them with gifts. Eleanor didn't seem to be able to deal with this so she concentrated on her husband and helping him with his ambitions.
Life changed completely when she found out that Franklin had been having an affair with her social secretary and friend Lucy Mercer. Eleanor offered him a divorce. Once again Franklin's mother took control and threatened to cut him off from the money she doled out to him so lavishly. His dreams of a political career would be finished so he promised to end the affair. Franklin would continue to be involved with women for the rest of his life. Lucy Mercer would discreetly remain in the picture. Eleanor slowly established her place in his world.
Ann Atkins adds bits and pieces about the people of this time. It is interesting to see how she shows Eleanor mature and finally become the strong intelligent woman we all think of today. Many people helped to mold Eleanor. The effects these people had on Eleanor and history are amazing. She goes from being the lonely wife and mother to a full time nurse for Franklin when he is struck with infantile paralysis and continues on to campaign for Franklin's presidential run. Her campaigning and globe trotting helped to shape our history. One of her many achievements was the passing of the United Nations Universal Declaration of Human Rights. This book tells of many of the concessions she had to make to achieve her goals along the way. Eleanor Roosevelt continued to give to her country and the world until she passed away.
I would recommend this book to those of you that enjoy reading about history and the people that helped make it. Enjoy.Reviewed by: Betsey Brookshttp://missbooklover.blogspot.com
or
Not Currently Available for Direct Purchase