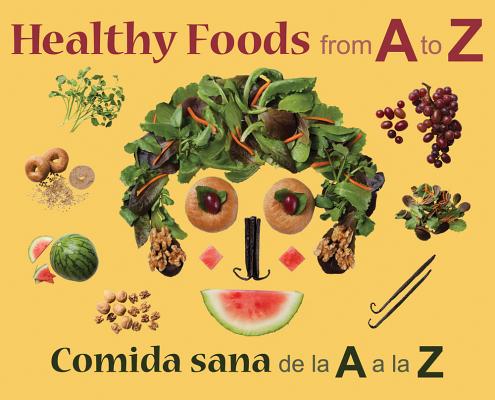 Healthy Foods from A to Z/Comida Sana de La a A La Z (Hardcover)
Moonstone Press LLC, 9780983498315, 32pp.
Publication Date: September 5, 2012
Description
Helping children learn about healthy foods as well as their ABCs this bilingual picture book in English and Spanish features colorful photographs of engaging faces made from fruits, vegetables, grains, dairy, and soy products. A sample sketch with instructions, followed by additional suggested activities, helps children create their own food faces and connect with peers and teachers. An informative section for parents highlights the nutritional value of 70 foods illustrated in the book.
About the Author
Stephanie Maze is a former photojournalist of 30 years whose work appeared in exhibits and publications worldwide, including National Geographic, Newsweek, the New York Times, People, the San Francisco Chronicle, Smithsonian Magazine, Time, and the Washington Post. She is the creator of the acclaimed I Want to Be . . . series of children s books, including I Want to Be a Chef, I Want to Be an Engineer, and I Want to Be a Veterinarian. She lives in Sarasota, Florida. Renee Comet is a photographer who specializes in advertising and editorial still-food photography for books, magazines, and newspapers. She has photographed nearly 40 books on food, including The Artful Pie, The Artful Vegan, Delicious by Design, Dining at Monticello, Mrs. Fields Cookie Book, and Cake Love. She lives in Washington, DC."
Advertisement