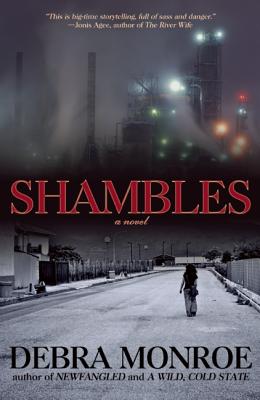 Shambles
Paperback

* Individual store prices may vary.
Description
In a landscape dominated by refinery smoke and rumors, Delia Arco spends her workdays counseling teenagers as outcast as she once was, and her nights caring for the baby daughter she loves fiercely. Searching furiously for the mother in herself, she struggles to understand her own mother's seedy life and puzzling disappearance. When an intern whose life story is the stuff of true-crime books insinuates herself into Delia's life, Delia wonders who to let in and who to keep out, who to help and who to let slide. Then one night her world cracks open. In this haunting, suspenseful novel, Debra Monroe asks: What happens when a family seems to blow apart? How can survivors ride out the grisly aftermath once an essential piece of happiness has been removed?
Engine Books, 9780983547716, 220pp.
Publication Date: June 15, 2011
About the Author
Debra Monroe is the author of four books of fiction, and one memoir. Her first book, "The Source of Trouble, " published in 1990, won the prestigious Flannery O'Connor Award for Fiction, and was acclaimed as a "fierce debut" that presents "ever-hopeful lost souls with engaging humor and sympathy" "(Kirkus Reviews)." Her second book of stories, "A Wild, Cold State, " published in 1995, was described by "The Boston Globe" as "fine and funky, marbled with warmth and romantic confusion, but not a hint of sentimentality." When her first novel, "Newfangled, " was published in 1998, the "Washington Post" called it "rangy, thoughtful, ambitious, and widely, wildly knowledgeable, teasing out the tension between pop culture and private life." Her second novel, "Shambles, " originally published in 2004 by SMU Press, was praised by the "Texas Observer" for "the depth as well as the heartbreaking particularity of the hellholes--real and imagined--that make "Shambles" a novel of graceful ease and substance." "On the Outskirts of Normal: Forging a Family Against the Grain, " was originally published by SMU Press in June 2010, to national acclaim.