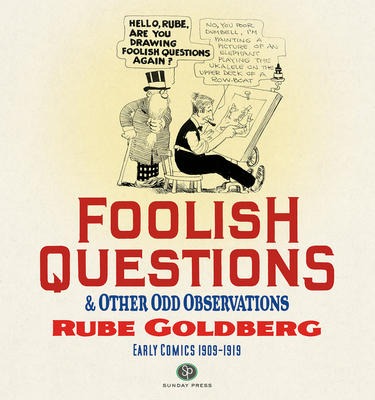 Foolish Questions & Other Odd Observations
Hardcover

* Individual store prices may vary.
Description
Before his incredible inventions captivated the world, Rube Goldberg was one of the most popular comic strip artists in America.
Here is the full Sunday-page run of his first hit comic,
Foolish Questions
, as expanded and colorized for the pages of the
Sunday Chicago Tribune
, 1909–1910. This comic strip spawned several reprint books and inspired games, postcards, copycat comic strips, and got readers to start ridiculing the "foolish questions" in their own lives. Also included is a brain-scrambling assortment of the other panels from his daily comics series that originated the wise-cracking
Foolish Questions
classic. Most are printed for the first time in over 100 years. Here's your chance to enjoy the wild, inventive, and politically incorrect humor of the inimitable Rube Goldberg. 
Fantagraphics Sunday Press Books, 9780983550440, 96pp.
Publication Date: June 6, 2017
About the Author
Rube Goldberg (1883-1970) was a cartoonist, an inventor, and the only person ever to be listed in Merriam-Webster's Dictionary as an adjective. Of the nearly 50,000 cartoons he drew in his lifetime, Rube is best known for the zany contraptions of Professor Butts. These inventions, also known as Rube Goldberg Machines, solved a simple task in the most overcomplicated, inefficient, and hilarious way possible.

Peter Maresca is the founder of Sunday Press Books, a publisher of comic strip reprint collections that has won multiple Eisner and Harvery Awards since its inception in 2005.

Paul C. Tumey is a writer and artist in Seattle, WA. He was nominated for an Eisner Award as co-editor of Foolish Questions & Other Odd Observations by Rube Goldberg, co-edited and wrote for The Art of Rube Goldberg, and wrote the introduction to LOAC Essentials: The Bungle Family and Thimble Theatre and the pre-Popeye Cartoons of E.C. Segar. He also currently writes a column for The Comics Journal.