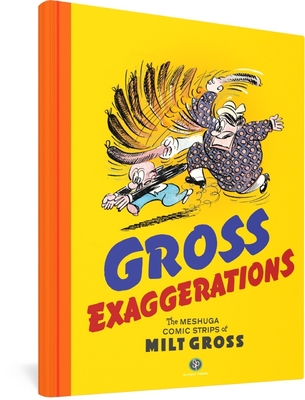 Gross Exaggerations
The Meshuga Comic Strips of Milt Gross
Hardcover

* Individual store prices may vary.
Description
Presenting a comprehensive collection of the major comic strips from Milt Gross: Nize Baby, Count Screwloose, and Dave's Delicatessen, along with other comic strips and offerings from books and magazines.

The king of "screwball" comic strips, Milt Gross had a varied career in movies and animation, humorous poetry and illustrated novels, and, most prolifically, comic strips. Beginning in the 1920s, his comics were born of the Yiddish humor in vaudeville and expanded to lampooning all the foibles and fallacies of American life. Filled with bizarre characters and frenzied, slapstick action, Gross's newspaper comics entertained readers for decades.

Most of the classics seen here have never been reprinted before!
Praise For Gross Exaggerations: The Meshuga Comic Strips of Milt Gross…
"Gross was doubly gifted: an irresistibly risible writer and visually, a comics genius." —Art Spiegelman

"Gross's most enduring legacy may lie in his pen lines. His trademark irreverence and his devil-may-care American absurdism may guarantee that his work—after staying fresh for decades—continues to be so for centuries." —The New Yorker
Sunday Press, 9780983550488, 144pp.
Publication Date: November 17, 2020
About the Author
Milt Gross (born 1895) was one of the most influential cartoonists of the first half of the 20th century. His first published comic, Phool Phan Phables, appeared in the New York Journal in 1915, though it was short-lived. After serving in World War I, Gross saw great success with an illustrated column, Gross Exaggerations, in the New York World. Many more successes would follow, including the strip collection Nize Baby in 1926, Count Screwloose from Tooloose in 1929, and his masterpiece, the "wordless novel" He Done Her Wrong, in 1930. In addition to his cartooning, Gross was also successfull in scriptwriting and radio. He died in 1953.