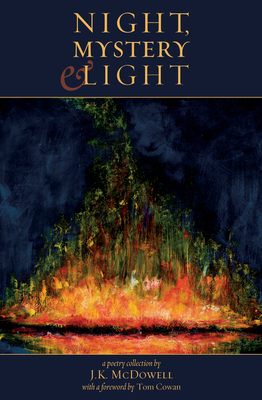 Night, Mystery & Light
Paperback

* Individual store prices may vary.
Description
"McDowell often ends his poems with a challenge to 'Jim,' a question usually asking him to make sense of his life. Yet as we feel our way through the earlier stanzas, living within their diaphanous walls, we overhear this final question as if it were directed at us. One of the joys of reading McDowell's poetry is precisely this-that his questions urge us to make deeper sense of our own lives. You will discover, along with him, the almost seamless way the ordinary and non ordinary realities of our soul's deep dreaming support and create a multi-layered world to live in. It is a world that intrigues us while reading the poem and that lingers long after we lay the poem aside." —Tom Cowan, from the foreword of Night, Mystery & Light
Homebound Publications, 9780983585237, 144pp.
Publication Date: September 30, 2011
About the Author
J. K. McDowell is an artist, poet and mystic, an Ohioan expat living in Cajun country.  Always immersed in poetry, raised in Buckeye country by a mother who told of Sam I Am, Danny Deaver and Annabel Lee and a father who quoted Shakespeare and Omar Khayyam. In the last decade a deepened study of poetry and shamanism and nature has inspired a regular practice of writing poetry that blossomed into the works presented in this collection. Lately, mixing Lorca and Lovecraft, McDowell lives twenty miles north of the Gulf Coast with his soul mate who also happens to be his wife and their two beautiful companion parrots.