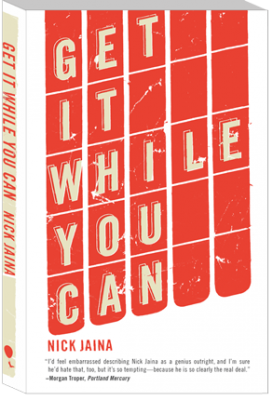 Get It while You Can (Hardcover)
Perfect Day Publishing , 9780983632740, 214pp.
Publication Date: January 1, 2015
* Individual store prices may vary.
Description
When his beloved guitar is stolen, Nick Jaina finds himself untethered from the dream he's pursued since he was sixteen. No matter how many albums he's released or tours he's led, he still can't shake the feeling that he has failed at life. So the critically acclaimed, endlessly heartbroken singer-songwriter checks himself into a ten-day silent retreat. As those silent days unfold, Jaina attempts to rewire his own brain in a burst of unpredictable digressions and unsent love letters, musings on the miracles of science and the fallen heroes of popular music. Get It While You Can is a late-night ode to the pursuit of sanity.
Praise For Get It while You Can …
"With a pitch-perfect ear for lyricism and rhythm, Nick Jaina interlaces personal narrative, music criticism, and intimate correspondences into one of those rare books that breaks new literary ground while also making you feel deeply. Jaina lays himself bare, sentence after sentence, yet never dominates the stage. He's content to mastermind the show from the background, letting exquisite riffs about Nina Simone, Ray Charles, and Paul Simon stand in as emotional correlates for his own heartbreak and music industry tribulations. Get It While You Can is a brilliant and compassionate work by a serious new literary talent."
—Justin Hocking, author of The Great Floodgates of the Wonderworld

"My buddy Matty once ran into a basketball pole after gracefully hitting a layup. It was such an amazing contradiction to watch, the athleticism followed by the shot to the nuts. Doubled-over and heaving, all he could muster was, 'I'm okay, it's okay, you can laugh.' Get It While You Can seems considerate and amazing in the same way. Jaina is willing to expose some of his most vulnerable experiences to the world, and even though it still pains him, he can let others have a laugh at his expense. It's courageous."
—Wesley Schultz of The Lumineers

"Get it While You Can is a hilarious, poignant story. Nick Jaina meditates on music, silence and noise, ambition, love and desire, and what artistic success means and does not mean. He learns to reach for what he loves, for what is right before him, and turns away from what does not exist and what he cannot control."
—Jay Ponteri, author of Darkmouth Strikes Again and Wedlocked
or
Not Currently Available for Direct Purchase