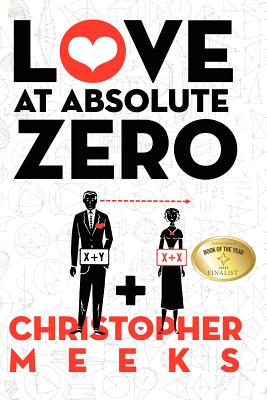 Love at Absolute Zero (Paperback)
White Whisker Books, 9780983632917, 262pp.
Publication Date: July 22, 2011
Description
Love At Absolute Zero is about a physicist who tries to apply the tools of science to finding a soul mate. Specifically, Gunnar Gunderson, a 32-year-old physicist at the University of Wisconsin, gets a promotion, and all he can think of now is finding a wife, causing his research to falter. To meet his soul mate within three days--that's what he wants and all time he can carve out--he and his team are using the scientific method, to riotous results.
Praise For Love at Absolute Zero…
"Thermodynamics are nothing; it's that love thing that is so frustratingly hard to figure out. Love at Absolute Zero is an excellent read that is very much worth considering, highly recommended!" - Midwest Book Review





"It is a given, now, that Christopher Meeks is a master craftsman as a writer.... [The novel] is a gift--and one of the many that continue to emerge from the pen and mind and brilliant trait for finding the humor in life that makes him so genuinely fine a writer." -Grady Harp, Amazon Top-Ten Reviewer



"As engaging as it is amusing, Love at Absolute Zero is, ultimately, a heartfelt study of the tension between the head and heart, science and emotion, calculation and chance." -Marc Schuster, Small Press Reviews



"It is impossible not to like Gunnar Gunderson. As he progresses from one disaster or near miss to the next, one views him with a mixture of compassion and laughter, but he is such a good-hearted young man that it is impossible not to root for him." -Sam Sattler, Book Chase



"A deeply resonant read that manages to be funny without sacrificing its gravity. Highly recommended!" -Heather Figearo, Raging Bibliomania
Advertisement