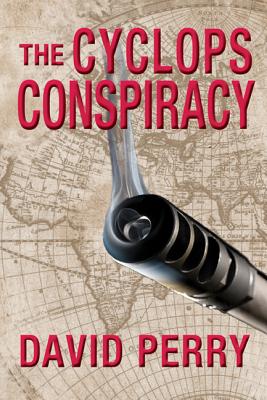 Cyclops Conspiracy (Hardcover)
Pettigrew Enterprises LLC, 9780983637509, 503pp.
Publication Date: February 1, 2012
Other Editions of This Title:
Paperback (2/1/2015)
* Individual store prices may vary.
Description
In this engaging thriller, David Perry demonstrates his skill as a master storyteller taking us behind the counter into the world of pharmacy. The Cyclops Conspiracy accelerates through tense terrain toward an incredible finish. As the story opens, pharmacist Jason Rodgers stands nose to nose with his tortured past following the untimely death of his mentor, Thomas Pettigrew. He is reunited with his former lover and Pettigrew's daughter Christine. Troubled by the way Pettigrew died and Christine's unsettling statements about her father, Rodgers pushes to know more. Their reunion initiates a cascade of apparently unrelated but fateful turn of events for Rodgers-an incredible job offer working for a mysterious millionaire, the lustful pursuits of a sexy physician, and the criminal activities of a corrupt pharmacist. With the clock ticking down to a nail-biting climax, he races to stop a plot and expose the conspirators before he becomes their next victim-and before American history is irrevocably altered.
About the Author
David Perry has practiced pharmacy in both community and hospital settings. He draws on that experience to craft his fast-paced stories. His first novel, The Cyclops Conspiracy, reached best-seller status shortly after its release and was nominated for Library of Virginia Literary Award. Perry lives in Virginia.
Praise For Cyclops Conspiracy…
First I must indicate that I am an aficionado of a good conspiracy novel.  Second that I found one here in the "Cyclops Conspiracy".  David Perry has written a fast moving very engrossing book regarding a conspiracy to assassinate both the present president of the United States as well as his father, a previous president of the US.  No, for a change it is not the ubiquitous Al Qaeda, but another fringe group having it's roots in Saddam Husein's Iraq.  Jason Rodgers, a pharmacist was forced to leave his employment with a very large pharmacy called "The Colonial" due to shady circumstances.  He also drops his engagement to Christine the daughter of The Colonial's owner.  His reasons, later explained, were to protect both the owner and his fiancee from the backlash of a supposed criminal slip up on his part. 
     Thirteen years after leaving the Colonial a new owner of the Pharmacy offers him a job managing the business.  The purpose of this offer we see as a means of framing Jason for the conspiracy that is being shaped to effect the assassinations.  Action is very fast and riveting with events moving forward as Jason with help from his brother, an ex marine, a private detective and eventually Christine work towards thwarting the plot and proving Jason innocent of the crimes he is accused of.     Cyclops is not a super bomb or fantastic weapon but a possible adaptation of present computer technology adapted for use in making the plot to assassinate the presidents viable under conditions where the Secret Service is doing it's job, and their umbrella protection of the two men is complete as it would be in real life.  Jason and the people that are helping him are real - they can be hurt, even killed but are motivated as would most people to foil the plot and protect the life of the president, and previous president.  The tie-in to Saddam's Iraq is very interesting and while somewhat far fetched, could by a little stretch of the imagination be real. Paul LaneNetGalley
"Taut and gripping, The Cyclops Conspiracy is a top-notch thriller that you won't want to put down!" 
-David Compton, author of bestseller Executive Sanction
"I am an aficionado of a good conspiracy I found one here in The Cyclops Conspiracy. David Perry has written a fast-moving, engrossing book .Action is fast and riveting"
-   Paul Lane, bookbitch.com
What begins as a mystery revolving around a pharmacist's death turns into an adventure of international proportions in this fast-paced thriller by new author David Perry. Jason Rodgers shows up at the funeral of Thomas Pettigrew, his former mentor and the father of Christine Pettigrew, the love of Jason's life—whom he left mysteriously thirteen years before. When Jason discovers the circumstances of Thomas Pettigrew's death, he becomes suspicious. Soon after, he begins to investigate the lack of corroborative evidence, wondering how and why Pettigrew changed from an intensely organized, clear-minded thinker to someone obsessed with conspiracies and surveillance devices. What Jason discovers appears to be a straightforward case of insurance fraud regarding pharmaceuticals. However, when Jason and Christine, along with Jason's brother and a private investigator friend of Pettigrew's try to discover proof of the fraud, they uncover something much bigger than any of them anticipate—a conspiracy that extends all the way from the local Colonial Pharmacy to an international scheme of revenge.
The Cyclops Conspiracy
features a well-crafted plot, skillfully written action scenes, and credible characters. Perry unravels the storyline with increasing speed as he introduces characters and effectively reveals what motivates them to reach their goals. Perry's descriptions are detailed and evocative, as evidenced by Jason's observation of the pharmacy: "On a high, thin ledge in front of frosted glass, an assortment of antique pharmacy paraphernalia was displayed. There were mortars and pestles of polished ceramic, marble, and brass. Short, stout porcelain apothecary jars were labeled with Latin words like Lactu-carium, Paeonia Albiflora, and Pro Dolore. Thick copies of yellow-paged tomes silently attested to bygone days of tinctures, elixirs, and compounds." In the beginning of the story, there are a couple awkward instances where Perry repeats facts unnecessarily. For example, several characters comment on the prior relationship between Christine and Jason when it has already been made quite clear that the two have had a relationship. Later, Christine and Jason realize someone has broken into her father's study and they repeat "someone has been here." Another distracting point is that Perry refers to some characters that appear in the action scenes merely by their appearance, such as, "Uniform," "Tattoo Man," or "Hooded Man." It is unclear whether this was intentional on the author's part, and it is a bit of a disappointment that the real identities of those characters are never disclosed. However, despite these few detractors which can simply be chalked up to the author's style, his plot, characters, and descriptions, as well as his choreography of action scenes are intricate, strong, and clear. Perry quickly builds—and deftly sustains—a momentum that will have readers engrossed in this page-turner.
Maya Fleischmann 
ForeWord Clarion Review
"THE CYCLOPS CONSPIRACY features a well-crafted plot, skillfully written action scenes, and credible characters...Perry's descriptions are detailed and evocative...Perry quickly builds--and deftly sustains--a momentum that will have readers engrossed in this page turner."
- ForeWord Clarion Reviews
Really liked the book and will be looking for new books from this author in the future.
 Thank you for providing me with an e-galley to review. 

Review: Alan Williams
NetGalley
I really enjoy mystery and thrillers and this one sounded like a really interesting read being based around conspiracies. This story began in an interesting way for a thriller, right at the beginning you are told who is behind the conspiracy (so to say). At first I thought this was a little weird because I'm used to trying to guess who is behind the events happening. I found it was almost like working backwards through a story, you know who the culprit is but then you are trying to figure out why they are doing this.
There were a few things about the story that disappointed me a little. The first thing was that I found a lot of the story seemed to focus on the drama between Christine and Jason. It felt that the mystery of the conspiracy was a bit overshadowed by the history between these two and the 'will they won't they get back together' plot.
I also found the story to be a little long for everything that was included. I found that it took a little long to get into a lot of the action and I was running out of steam when it came to that part, I slowed down a little bit half way through the story. It did pick up at the end when all the action really started which I enjoyed. The action was keep you on the edge of your seat thrilling, but it just took a little longer to get there than I would have liked. I found there were parts that didn't absolutely need to be included, the search for the answers took too long and there was a lot happening that wasn't necessary (there is some things with Jason's ex-girlfriend that seemed to be just put in there for no reason). 

This was an enjoyable read and if you like thrillers with a little conspiracy mixed in you will enjoy The Cyclops Conspiracy. 

Andrea Modolo 
NetGalley
This is one of the best thrillers that I've read during the last few months. Its action moves at a cinematic pace and it easily takes hold of the reader's attention, an attention it never lets go.
     On first sight there's nothing much going on in the world that the author invites us to enter; things look normal; extremely normal one might think. But as time goes by and as we turn one page after the other, things begin to change; or rather things start to become illuminated. So just under that picture of normalcy that we see at first, we soon come to discover a different one; one so bleak that's hard to believe.
     It all begins with the death of a man called Thomas Pettigrew. Thomas was an old-style pharmacist, one of those people that loved their job a lot and cared for their customers just as much, and a sometimes successful businessman. His death comes as unwelcome news to everyone who ever met him. Among those people is Jason Rodgers, his once time protégée, who because of an unfortunate turn of events had to part ways with his mentor. Now, for the first time in years, he is back for the funeral, and before too long he comes to meet the only person he ever wanted to see there; Thomas' daughter Chrissie, an ex lover. That meeting leads him to a walk down memory lane, but at the same time opens up a portal back to his old world, as a woman named Lily Zanns, who now heads Thomas' pharmacy, offers him a job, which he gladly accepts. And it's exactly then that the plot begins to unfold.
     As Jason finds himself once again in Chrissie's circle, he starts to feel kind of happy. The old feelings between seem to rise back to life and he really loves his new job. With the new job though come new responsibilities and soon enough, new meetings. A young, pretty and bright doctor called Jasmine Kader seems to crave for his attention, something which, because of his feelings for Chrissie, puts him in an awkward position. But, as he's soon to find out, that's the least of his problems; something seems to really stink in this new world of his, but he can't exactly say what. Probably there's a scum with some prescriptions going on; but is that all? Obviously not, otherwise there wouldn't be any hidden cameras in the store. Right? But why exactly are they there? And who knows about them? Well, the more he finds out, the more he'll start to think that the world he's entered is no more than an illusion. Nobody seems to be who he or she claims to be, and as the secret parts of the story will start to come to light, Jason and Chrissie will find themselves in the epicenter of a virtual cyclone, of a conspiracy that threatens to blow the whole world apart. Who is who and who does what? Who to trust? These are the main questions that they have to ask at some point or another. The answers are not so easy to come by, and when they do they are just as hard to comprehend.
     In this book we once again read a story about some ordinary people, who find themselves in extraordinary situations and who somehow discover within them the necessary wealth of psychological stamina to endure all the ill fortune that life throws at them. The second half of the book is so fast-paced that it leaves the reader almost breathless, something that adds some points to the overall affect of the narration. If there's a weak point in this book I'd say it's the similes. The author obviously loves them a lot, but the reader maybe not so much. However, one should never forget that this is the author's first book, and as such it comes very close to genre perfection. 9/10. 
-Lakis Fourouklas 
NetGalley

or
Not Currently Available for Direct Purchase