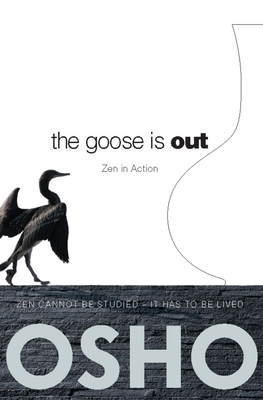 The Goose Is Out (Paperback)
Zen in Action
Osho Media, 9780983640028, 171pp.
Publication Date: May 8, 2012
* Individual store prices may vary.
Description
There is a famous Zen story about a disciple, Riko, who once asked his master Nansen to explain to him the old Zen koan of the goose in the bottle. Namely, if a man puts a gosling into a bottle, and feeds the gosling through the bottle's neck until it grows and becomes a goose - and then there is simply no more room inside the bottle -- how can the man get it out without killing the goose or breaking the bottle? In response, Nansen shouts "RIKO " and gives a great clap with his hands. Startled, Riko replies, "Yes master " And Nansen says, "See The goose is out " In this Zen-flavored series of responses to questions, the contemporary mystic Osho cuts through the mad complexity of the contemporary human mind and its self-created "problems" with humor, compassion, and even an occasional shout and clap of his hands. The goose in the questioner's bottle may be a philosophical problem or an existential dilemma, a relationship drama or an emotional crisis -- in each case, Osho's unique and transformational response sets the goose free, allowing us to rediscover the simple and innocent clarity each of us brings with us when we.
About the Author
Osho is a contemporary mystic whose life and teachings have influenced millions of people of all ages, and from all walks of life. His often provocative and challenging teachings generate today more and more interest and his readership is dramatically expanding around the world in more than fifty languages. People can easily recognise the wisdom of his insights, and their relevance to our lives and to the issues we are facing today. The Sunday Times in London named Osho as one of the "1,000 Makers of the 20th Century." He is known around the world for his revolutionary contribution to meditation -- the science of inner transformation -- with the unique approach of his "OSHO Active Meditations" acknowledging the accelerated pace of contemporary life and bringing meditation into modern life
or
Not Currently Available for Direct Purchase