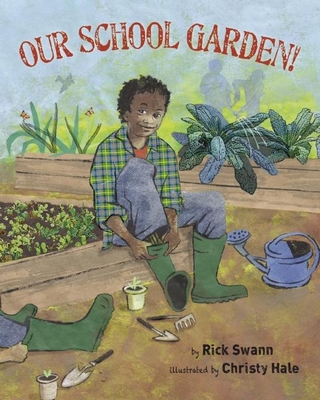 Our School Garden! (Hardcover)
Readers to Eaters, 9780983661504, 32pp.
Publication Date: March 6, 2012
Other Editions of This Title:
Paperback (4/1/2018)
* Individual store prices may vary.
Description
New city. New school. Michael is feeling all alone--until he discovers the school garden There's so many ways to learn, and so much work to do. Taste a leaf? Mmm, nice and tangy hot. Dig for bugs? "Roly-poly " he yells. But the garden is much more than activities outdoors: making school garden stone soup, writing Found Poems and solving garden riddles, getting involved in community projects such as Harvest Day, food bank donations, and spring plant sales. Each season creates a new way to learn, explore and make friends. School librarian and gardener Rick Swann, in his picture book debut, describes the wonder of connecting with nature and the joy of growing and eating one's own harvest. Award-winning artist Christy Hale ( Dreaming Up, Elizabeti's Doll series) captures the brilliant color of the season and the harvest. This is the perfect book to read alone, as well as share in the classroom or with the entire family. Good read for the young gardener. Winner of the Growing Good Kids Book Award from Junior Master Gardener Program and American Horticultural Society, named Food Tanks' "15 Book for Future Foodies," and the Whole Kids Foundation Book Club selection for March 2016.
About the Author
Rick Swann is a school librarian in Seattle, Washington, where he lives. He has been a gardener since he was four, picking asparagus and blueberries near his childhood home in New England. Now he harvests vegetables with his students from their school garden for the local food bank. Rick has been a presenter at state library conferences and gardening events. This is his first book. Learn more about Rick at www.rickswann.com. Christy Hale has illustrated many award winning picture books, including Elizabetti's Doll, and its two sequels, Mama Elizabeti and Elizabeti's School. She is also the author/illustrator of The East-West House: Noguchi's Childhood in Japan, named Best Book of the Year by Kirkus Reviews. When she is not making books, she's busy making marmalade and lemonade from her grapefruit, orange, and lemon trees at her home in Palo Alto, California. Learn more about Christy at www.christyhale.com.
Praise For Our School Garden!…
From educational opportunities to building community and friendships, this picture book introduces the rewards of school gardens...Hale's charming, richly-hued, textured illustrations depict multicultural characters and a variety of garden-related activities Swann's enthusiasm and advocacy will pique kids' interest and engage them...in this informative, enjoyable approach to the subject."
Booklist

Our School Garden!draws upon the best parts of what a school garden can bea place to spark curiosity, explore, work hard, laugh, make friends and deepen academic learning. This book would complement any library for students who are learning where food comes from."
Kyle Cornforth, Director, Edible Schoolyard Berkeley

A great addition to school gardening collections and evidence that we all should strive to be effective users and producers of ideas and information!"
Craig Seasholes, President, Washington Library Media Association

Our School Garden! illustrates how gardening builds community, and ties in and enriches all academic subjects. It made me eager to get back into the garden with kids!"
Karen Ray, School Gardens Program Manager, Thurston County (WA) Food Bank

A charming story of culture, food and friendship and an inspiring call to action. Every school should have a garden like this one!"
Jill Ligtener, Edible Seattle magazine
or
Not Currently Available for Direct Purchase