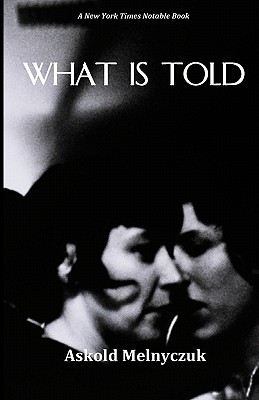 What Is Told
Paperback

* Individual store prices may vary.
Description
What Is Told is a masterful novel that sprints across generations, centuries and continents. In a spirited narrative that travels from old Ukraine to New Jersey, Askold Melnyczuk follows his character through the betrayals of war and the promises of marriage. Zenon and Natalka Zabobon marry the day Archduke Ferdinand is shot in Sarajevo. When Natalka wins the battle of the bedroom, Zenon throws his energies into making sure his country doesn't completely disappear from the map. His brother Stefan, meanwhile, renounces the abstractions of nationalism for the certain pleasures of Paris and his two mistresses, a mother and daughter. Transplanted to the strange soil of the new world by the upheavals of World War II, the family finds itself unprepared for the subtle sabotages of peacetime suburbia. With the ghosts of their extraordinary past never far away, the voyagers resort to the strategies learned in the struggle again the Tartars, Nazis, and Communists. The results are as comic as they are unexpected. In What Is Told, Askold Melnyczuk reinvents with humor and compassion, the story of a people long hidden behind the Iron Curtain. His novel is a reminder that history is not something that happens only to others.
Pfp Publishing, 9780983677420, 202pp.
Publication Date: June 16, 2011