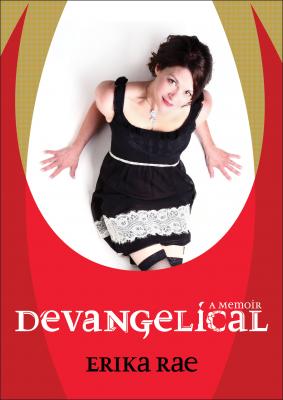 Devangelical (Paperback)
Why I Left to Save My Soul
Emergency Press, 9780983693253, 170pp.
Publication Date: December 11, 2012
* Individual store prices may vary.
Description
"Devangelical" is an irresistibly funny and irreverent memoir about Erika Rae's experience growing up in and out of the Evangelical church in the American Bible Belt. As an adolescent who is expected to be hot for God, and not boys, Erika dreads that the Rapture will come before she gets to have sex. All the while she survives exorcisms, radical taboos, satanic back-masking on records, muscle men for Jesus, and cool, mulleted youth group leaders. Eventually Erika emerges as a young, married adult in spiritual limbo. "Devangelical" is a political and personal exploration of how the Evangelical church affects us all. For Erika Rae, it means a smart and honest shedding of baggage. A lot of heavy, scuffed-up, duct-taped baggage . . . with clowns inside.

About the Author
Erika Rae is the editor in chief at "Scree Magazine" and nonfiction editor at The Nervous Breakdown, the popular literary site. Erika earned her M.A. in Literature and Linguistics at the University of Hong Kong. A resolute member of the Evangelical church in the American Bible belt since childhood, she started on the path to the "Devangelical" as a young adult. She lives in Boulder, Colorado with her husband and three children.
Praise For Devangelical: Why I Left to Save My Soul…
I'm a believer that Erika Rae will make you cackle with heathen-like delight throughout Devangelical."
—Laurie Notaro, author of The Idiot Girl's Action-Adventure Club, I Love Everybody (And Other Atrocious Lies), and There's a Slight Chance I Might Be Going to Hell

Devangelical strikes a darkly funny blow at the central nervous system of evangelical Christianity delivered by a former insider."
—Frank Schaeffer, author of Crazy For God

I swear to God, I couldn't stop reading Erika Rae's Devangelical! It is a charming, original, hilarious, and insightful trip into the mind and soul of a young Evangelical girl."
—Jessica Anya Blau, author of Drinking Closer to Home and The Summer of Naked Swim Parties

Whether you think Erika Rae is a prophet of truth or a whore of Babylon, you have to admit she's a sinfully sublime writer. Her memoir is a triumph: honest, profound, sexy, and funny as all hell."
—Greg Olear, author of Fathermucker and Totally Killer

A book to make you sad for the entire human race, and yet hopeful for all its individuals."
—Ben Loory, author of Stories for Nighttime and Some for the Day

Devangelical is a must read to understand the culture of fundamentalist Christians. Erika Rae shows what goes in inside the minds of teenagers growing up in the faith."
—Tony DuShane, author of Confessions of a Teenage Jesus Jerk

"Erika Rae would have gotten me in trouble in as a teen. Devangelical is the ultimate hysterical note passed down the church pew, eliciting uncontrolled, out-loud laughs in the face of propriety."
—Slade Ham, comedian, The Whiskey Brothers comedy group

Devangelical reads like an exorcism. And I mean that in the best possible way."
—Brad Listi, author of Attention. Deficit. Disorder, founder of The Nervous Breakdown, and host of Other People
or
Not Currently Available for Direct Purchase