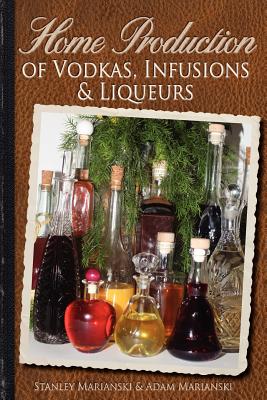 Home Production of Vodkas, Infusions & Liqueurs (Paperback)
Bookmagic, LLC, 9780983697343, 280pp.
Publication Date: September 5, 2012
* Individual store prices may vary.
Description
Home Production of Vodkas, Infusion and Liqueurs is another first of its kind book from Stanley and Adam Marianski. This is not just a collection of recipes, but a set of rules that govern the process of making vodka and other alcoholic beverages. A quote from the book: "From the start, we decided not to write another recipe book. A collection of recipes does not make a person proficient in a new skill. You have to know the How and Why of making spirits; you have to know the rules that govern the process. First of all you have to realize that alcohol is just a tool, albeit a very important one. Once you understand how to manipulate the properties of alcohol, the rest will fall into place." To get the reader started, a collection of 103 detailed recipes are included, which can be studied and used as a reference. By carefully reading this book you will discover that producing new spirits is almost like cooking, one needs to first know the basics and then let the imagination run wild. Everything falls into place and making new drinks becomes routine. After practicing the technique of creating drinks a couple of times, the spirits will consistently be of high quality, become crystal clear and look beautiful. The process can become an art form.
About the Author
Stanley Marianski is the author of eleven books which include topics on meat smoking, pickling and making alcoholic beverages. Stanley actively participates in many forums and conferences related to meat smoking; he is a regular participant of the Wedliny Domowe National Conference in Poland where purveyors of meat products get the opportunity to showcase their goods. His main objective in writing his books which always contain diagrams is to help the reader "understand the sausage making process" and then "create his own recipes." His passion for creating unique sausage blends have been handed down from generations and he looks forward to continue sharing this passion with sons who also co-authored most of his books.