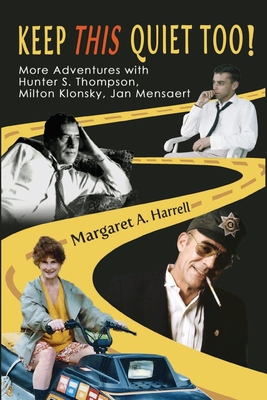 Keep This Quiet Too!
More Adventures with Hunter S. Thompson, Milton Klonsky, Jan Mensaert (Keep This Quiet! #2)
Paperback

* Individual store prices may vary.
Description
"Keep THIS Quiet Too " is "a passionately written memoir that doesn't sit around being fit and proper and straight laced. . . . As a key to the lives of these three writers it is idiosyncratic and in age where blandness is the norm, it is a pleasure to go on her journey and find out a little about what made these men tick and what drove her to them"--Eric Jacobs, "Beat Scene" (UK). "Keep THIS Quiet Too " takes place in Morocco, Belgium, Switzerland, and the United States as Margaret pits wits with--and learns from--Gonzo creator, Hunter S. Thompson, New York City poet-genius Milton Klonsky, and her eventual husband, Belgian poet Jan Mensaert. At one point, trying desperately to find her, Hunter writes, "Dear Margaret, Where are you and why? I've lost track completely. My last definite word was from a toilet-hole in Algiers." Hunter wants her to work on his next manuscript. This is 1971. Moving from the 1970s (Belgium/Morocco) to 1986 (Switzerland), she has a life-changing spiritual experience at the C. G. Jung Institute Zurich. The book ends up fittingly at Owl Farm. Where else could the last two chapter take place? There, Hunter is in fine form, trying to take the romance to the next level. Actually, they both are intent on it.
Saeculum University Press of NC, 9780983704539, 284pp.
Publication Date: October 24, 2012
About the Author
Margaret Harrell is the author of "Keep This Quiet!" and eight books in the "Love in Transition: Voyage of Ulysses-Letters to Penelope" nonfiction series, including "Toward a Philosophy of Perception." Also, "Marking Time with Faulkner." She copy edited Hunter Thompson's first book, "Hell's Angels." HST acknowledged her in "Gonzo Letters" 2. in 2011, "Keep This Quiet!" was published to highly receptive reviews. She is also an editor, cloud photographer, and light-body teacher, mentoring people who want to maximize their potential.