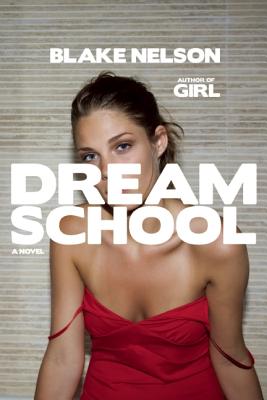 Dream School
Paperback

* Individual store prices may vary.
Description
Andrea Marr, the heroine of the bestselling novel Girl, is back. And headed to college. Imagining a typical "J. Crew/college catalog" experience, Andrea leaves Portland to attend prestigious Wellington College in Connecticut. Surrounded by the best and the brightest, she works hard to adjust and keep up. But Andrea has a way finding her own people — not the well-heeled and well-scrubbed — but the weird, the wild, and the brilliant. It isn't long before her college career veers wildly off course. Suddenly her entire future is in question. But in her darkest hour, Andrea will find the key to her destiny.
Praise For Dream School…
"In 1994, Blake Nelson's seminal coming-of-age text, Girl, introduced us to Andrea Marr, a bright, sensitive, Sassy-era Holden Caulfield for tortured, wannabe-rebel good girls. Nelson's intimate depiction of Andrea — equally unmoored in the grunge clubs of Portland, Oregon, and in her high-school locker room, rocked by teen lust and a desire for independence — created a cultish following, the tales of frequent rereadings the stuff of legend. Today, Nelson hooks us up with Andrea in Dream School (Figment), an elite East Coast college, where the exquisite hell of searching for meaning and self rolls on. So clear the weekend and make room in your backpack."—Vanity Fair December 2011

"Dream School is first and foremost an enduring account of what it looks, feels and sounds like to be young."—The New York Times

"For a certain '90s-obsessed set, Blake Nelson's Dream School is the most anticipated book of the year."—The Daily

"I'm almost finished with Dream School and completely enjoying it: Girl heroine Andrea Marr leaves Portland for an East Coast private school, where she carries on being daffily privileged and obsessing about fashion and "coolness" and trying to decide what boys to sleep with and why. It's a lot of fun."—The Portland Mercury

"You guys, it's really good!"—xoJane

"How great is Blake Nelson? Read Girl, then Dream School. We dare you not to love these books."—I Heart Daily

"Nelson writes flawlessly in the voice of Andrea Marr, a tainted innocent who's busy negotiating the mixed messages of modern culture."—Wally Lamb, author of She's Come Undone

"In Dream School ... Nelson takes up the voice [of Andrea Marr] without skipping a beat ... it's the missing link between Bret Easton Ellis and Tao Lin."—The Stranger

"If you grew up reading Sassy Magazine, you know who Blake Nelson is."—BUST Magazine

"The missing link between Bret Easton Ellis and Tao Lin." — The Stranger
Figment, 9780983723202, 256pp.
Publication Date: December 1, 2011
About the Author
Blake Nelson grew up in Portland, OR. He attended Wesleyan University and NYU. He began his career writing short humor pieces for "Details" magazine. His first novel "Girl," was serialized in "Sassy" magazine and was made into a film starring Selma Blaire and Summer Phoenix. Nelson has since published ten more novels, including "Rockstar Superstar" and "The New Rules of High School," "Prom Anonymous" and "Gender Blender."

His science fiction novel "They Came From Below" was a Kliatt Editors Choice pick in 2008 and his 2006 novel "Paranoid Park" was made into a film by Gus Van Sant which won the Cannes Special Anniversary Prize Award in 2006, as well as Italy's Grinzane Literary award. His latest book "Destroy All Cars" has been praised as "Smart and Entertaining" by the "New York Times, " and was called "A wonderful novel" by the "Los Angeles Times." His newest novel "Recovery Road" was released in March of 2011.
or
Not Currently Available for Direct Purchase