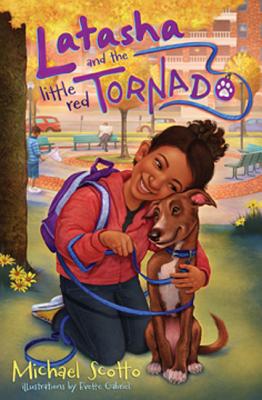 Latasha and the Little Red Tornado
Paperback

* Individual store prices may vary.
Description
Latasha and the Little Red Tornado tells the story of Latasha Gandy, a precocious and inventive third-grader who lives in Pittsburgh with her hardworking mother and a naughty puppy named Ella Fitzgerald. At eight years old, Latasha cannot wait to grow up. Ella, on the other hand, absolutely refuses to! When Ella's antics push the Gandy's landlady, Mrs. Okocho, to her wits' end, Latasha realizes that she must turn her mischievous mutt into a model dog. Latasha enlists the help of a classmate and neighbor, Ricky, in her efforts to train Ella. Their friendship grows as Ricky joins the girls on their adventures in the park. But after Latasha and Ricky have a falling out, Latasha decides to take Ella out on her own, a choice that proves to have grave consequences. At turns hilarious and heartbreaking, this tale of friendship and maturity follows Latasha as she struggles with Ella, school, and her mother's absence from home.
Praise For Latasha and the Little Red Tornado…
Latasha and the Little Red Tornado is an engaging novel for young adults following eight-year-old Latasha Gandy and her mischievous puppy Ella Fitzgerald. Ella's puppy antics are almost completely out of control; Latasha must work hard to train Ella to be an obedient dog, even as she deals with the daily pressures of school and the repercussions of her mother's difficult new job. A handful of black-and-white illustrations enhance this heartwarming story about an African-American girl and her canine friend learning what it means to grow up and be responsible, together.
 
Midwest Book Review
August 2011
Nancy Atwell said it best, "The job of adults who care about KIDS is to move heaven and earth to put that book into a child's hands." Up until last week I had no clue who Michael Scotto was, but after reading his book "Latasha and the LIttle Red Tornado" I can say that his book deserves to be in the hands of young readers.
Their is no doubt in my mind that Latasha has a chance to become a huge hit in my classroom. The protagonist in this story is an black third grade girl living in Pittsburgh.  Students will immediately fall in love with Latasha in the first few pages as they are introduced to her spunk.  Latasha is a character full of live, thoughts, hopes and dreams.  She jumps off the page and into your heart.I think that this book deals with so many issues that make it relatable to young readers.  Here are a few:1. Single parent home2. Wanting to feel grown up3. Having to have to spend a lot of time at a babysitters4. Making friends5. Being honest6. Problems juggling responsibilitiesMany more, you get the point.Oh yeah, this book will throw you for a loop that you never see coming! We all love that right?In my opinion we do not have enough middle grade books where the main character is a black female, and in many of the books that do have a black female main character, the book often focuses on racism and civil rights.  I know that racism is still a huge issue in the world that we live in, but at the same time young black females need to know that their is more to them then just the color of their skin.  I hope that this doesn't sound wrong coming from a "white dude", but I know that readers at times want to read books with characters that look like them, and deal with things they deal with, and I do not feel like the young female black population has enough characters like Latasha.
(If I was off base at all in the previous paragraph please leave a comment.  I would love to become more educated in this area.)
If you are looking for a great read with a strong theme and unforgettable characters please give author Michael Scotto's book a chance.  You will not regret it. That is a promise.
-sharpread  
Colby SharpAugust 16, 2011
LATASHA AND THE LITTLE RED TORNADO is the story of Latasha, an eight year old girl who lives with her mother and her dog.  Latasha is feeling a little bit grown up because now that she is 8, she is trying to be more mature.  Latasha's dog (Ella, named after Ella Fitzgerald) is past the puppy stage--she is two years old and still gets into trouble.  Latasha is worried about this and works hard to help Ella learn to behave.

In the meantime, Latasha's mother finally gets a new job as a nurse's assistant but her hours are long and Latasha has to be "young lady sat" by their elderly landlady, Mrs. Okocho. Latasha is not overly happy about this.

I loved Latasha. She is a great new character for middle grade readers. She is a girl with spunk and personality.  Her struggles and stresses are very believable and she handles most of them with grace and humor.  Latasha's relationship with her dog is great.  You can't help but fall in love with Ella--the trouble making not-so-little puppy. Latasha also deals with some issues of friendship and school struggles throughout the story.

I read this book in one sitting.  I am always thrilled to find a new middle grade or series book character for transitional readers.  I know how important series and short chapter books are at this stage and I liked Latasha almost immediately. I loved the community around Latasha. I loved the relationships Latasha had with her mother and her landlady.  Latasha's teacher is also part of her community and I loved her relationship with him. The classroom seemed a little traditional (book reports, book contests, etc.) but the relationship between Latasha and her teacher was a good one.

Latasha is African American. I am not sure that is mentioned in the book but it is depicted in the illustrations.  I am always shocked at the fact at how atypical this is for series and early chapter books. So I am glad to see that this is changing.

The book is short--132 pages. The print is a bit small so it isn't as short as it sounds but it is one that I see 3rd/4th graders reading pretty easily.  The author/illustrator also uses paw prints between scenes in the book. I love that support for readers that do not have that much experience with chapter books.

Overall, I really enjoyed this book. For me, it is almost always about the characters and I really liked these characters. It seems to me that this would make a perfect series--I know when I finished the last page, I wanted to read more about Latasha.  The book is due out in November by Midlandia Press. So glad we had a chance to read it early. I am excited to share it with students in the fall:-)  
A Year of Reading July 25, 2011
When I opened the package that Latasha came in I was surprised. The cover was so cute, the colors vibrant! This is a good sign, I thought. When I accept a book for review by an unknown author and press it creates a bit of suspense and anxiety. I never know what to expect.

I began reading. Eight year old Latasha has a crazy dog and she believes that if she can train her dog it will prove she's mature and grown up. Her mom gets a great new job as a nurse's assistant but it means Latasha has less time to spend training her dog and she must be babysat by a strange old neighbor lady, Mrs. Okocho -- the horror! I wavered in the first short chapter. I don't about this. Is this going to be a cliche ridden story?

As the story began to flow I was sucked into Latasha's world. Her cares and concerns were so real. The text made me remember both the easy delights and frustrations of being eight. Latasha is an endearing character who learns about the weight of responsibility and how to make and keep friends. I appreciated that the neighbor lady was a well-rounded character who was not just a "prop" but a real character with depth. Ella, the dog, offered comic relief as she tested Latasha's resolve to train her.

While the text may have special appeal for city kids (Latasha lives in Pittsburgh) or dog lovers I think this is a good book for late elementary and early middle school readers. Latasha and the Little Red Tornado was a delight. I read it in one sitting. When I closed the book, with a few tears in my eyes, I thought, What a good story.  
 
The Prairie Library August 5, 2011
"Latasha and the Little Red Tornado" by Michael Scotto, illustrations by Evette Gabriel
Submitted by Terri Schlichenmeyer on Friday, 9 December 2011
Houston Style Magazine

"The babysitter's here!"
When you were a little kid, those three words sometimes meant fun. Mom and Dad were heading out, leaving you in the care of someone responsible and older who let you eat snacks you usually couldn't have, watch TV you usually weren't allowed to see, and stay up way past your bedtime. It was almost like having a mini-vacation.
But now that you're getting bigger, you wish you could babysit yourself because you're certainly no baby. But in the new book "Latasha and the Little Red Tornado" by Michael Scotto, illustrated by Evette Gabriel, a young girl learns that responsibility comes with growing up.
Eight-year-old Latasha Grady hates it when she's sent downstairs.
That's because Mrs. Okocho, who came from Nigeria and lives downstairs, is Latasha's neighbor and her landlady and her babysitter.
Mrs. O can be grumpy but Latasha likes her, so that's not the problem.
The problem is that Latasha's not a baby anymore and she doesn't think she needs babysitting. She really wishes Mama would let her stay upstairs by herself while Mama goes out to look for a job. Besides, spending time with Mrs. Okocho means that Ella is left all alone in their Pittsburgh apartment.
Ella Fitzgerald Grady is Latasha's dog and she's a wild girl. Ella – who was named after the singer – has a lot of energy because she's still a puppy and she likes to zoom all over the apartment. Latasha knows that Mrs. O doesn't like the noise that Ella makes when she gets the zoomies. Mrs. O doesn't like Ella much at all, in fact.
Knowing that, and knowing that the red fluffball has a mind of her own, Latasha decides to teach Ella to be the best dog in the world. She has to do it fast, though, because Mama finally landed a job! That means Latasha has to spend after-schools with Mrs. O, but at least she finally has permission to take Ella for walks at a nearby park first…
But Ella just can't let go of the zoomies and when the worst thing in the world happens, Latasha takes all the blame. Will everybody be able to forgive her?
Can Latasha ever forgive herself?
Looking for a good winter-break book for a kid who's growing up too fast? "Latasha and the Little Red Tornado" is perfect, especially if that kid is a dog-lover.
With realistic situations and language that's not fakey, author Michael Scotto brings young readers a friendly, smart little heroine who's surrounded by believable, likeable characters. I really enjoyed this book because it's got a little drama, some excitement, and – spoiler alert here! – some sadness that ends up not-so-sad.
You'll also want to know that, though this book is meant for older gradeschoolers, some of its words are pretty big for that age group and independent readers may be challenged. Still, with a little help and such a wonderful main character, "Latasha and the Little Red Tornado" will keep your 7-to-11-year-old happily sitting for a good long time.
Midlandia Press, 9780983724308, 133pp.
Publication Date: November 15, 2011
About the Author
Twenty-eight year old Michael Scotto has worked as a filmmaker, a saxophone player and an engineer's assistant, but his true passion has always been writing. He earned a degree in Creative Writing from Carnegie Mellon University in 2004, and he received his M.F.A in Dramatic Writing there in 2007. Today, Mr. Scotto is the author of over twenty picture books for young readers. "Latasha and the Little Red Tornado" is his first novel. In his spare time, he enjoys cooking and photography. In 2011, Scotto was honored as one of the "Pittsburgh 40 Under 40," which recognizes difference makers in the Western Pennsylvania region. He currently lives in Pittsburgh, PA with his wife.
Book Videos
or
Not Currently Available for Direct Purchase