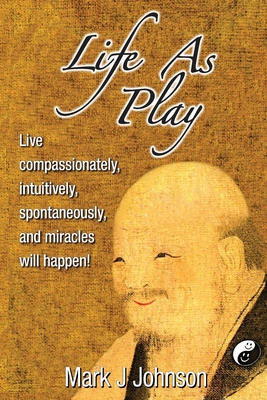 Life As Play
Live compassionately, intuitively, spontaneously, and miracles will happen!
Paperback

* Individual store prices may vary.
Other Editions of This Title:
Digital Audiobook (4/18/2021)
Paperback (12/16/2020)
Description
NOTE: This is the latest full-color edition, published in 2021.
This extraordinary journey is not limited to how playful life can be. It is a profound investigation into how to discover your innate divinity.
So, join Mark on his 50-year spiritual odyssey with some of the most fascinating spiritual teachers of the last half-century. His travels take him from the mountains of Pennsylvania to exotic temples in China and Tibet and eventually to the wild and dangerous hills of Malibu, California.
Mark chronicles his ten years training in an Advaita Vedanta center in Florida, then a year of visiting Suzuki Roshi in California just before the Roshi died. Then the Play began, with an intense 28-year apprenticeship to the powerful Daoist wizard he meets in Taiwan and convinces to come to the US.
Mark learned many valuable self-healing techniques in their Malibu clinic: how to heal oneself with high-frequency energies available to everyone; how to utilize deep breathing techniques for clearing and integrating our subconscious; the power of love, compassion, spontaneity, intuition, and inner stillness; how to recognize an Avatar if you are lucky enough to meet one; and how to activate your acupuncture meridians and auric energies. There are chapters on Feng Shui, Daoist sexual practices, the nine secrets to a life of Play, and much more.
The central message is that if an ordinary boy from central Pennsylvania can learn to live in an abiding state of Play, then surely you can too. And keep in mind that Mark will not rest until this book is in every hotel room in the world.
DAO Publishing, 9780983758693, 236pp.
Publication Date: December 16, 2020