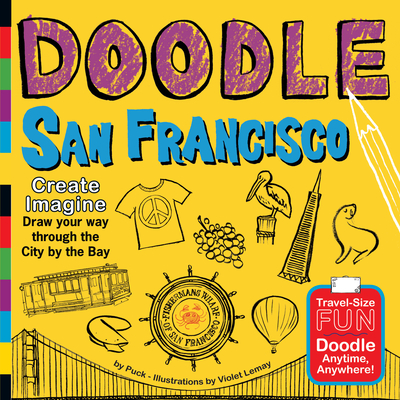 Doodle San Francisco
Create. Imagine. Draw Your Way Through the City by the Bay. (Doodle Books)
Paperback

* Individual store prices may vary.
Description
If you've left your heart in San Francisco, you will love this book, in which you can CREATE, IMAGINE, and DOODLE your way through the City by the Bay.

These mega-fantastic doodles waiting for your imagination are the perfect way to become the next great artist! Every doodle has a definitive San Francisco style. Some are CLASSIC (Doodle the Golden Gate Bridge), some are PLAIN GOOD FUN (Create your own Cable Car), and others are totally WACKY (Doodle a bad guy in the Alcatraz Jail!)
And if you think this book ends within these pages, we can only tell you that there's a GOLD RUSH of extra doodles waiting for you in cyberspace! Find out how to get more cool, free doodles online inside the pages of Doodle San Francisco.
duopress, 9780983812166, 120pp.
Publication Date: August 1, 2012
About the Author
Puck is the author of dozens of children's books, including New York Baby and My Foodie ABC. He is also the creative chief behind duopress labs, the company responsible for books such as My Fridge, The Belly Sticker Book, 100 Pablo Picassos, and many more.

Violet Lemay is an award‑winning author and illustrator whose children's books include 100 Pablo Picassos, My Foodie ABC, Artists and Their Pets, and the Local Baby series, which includes New York Baby and Beach Babies. Violet worked as a professor of illustration at the Savannah College of Art and Design (SCAD) in Georgia. Her illustrations have been published by Penguin, Holt, HarperCollins, McGraw-Hill, Scholastic, and Highlights magazine. Violet currently lives in Auckland, New Zealand.