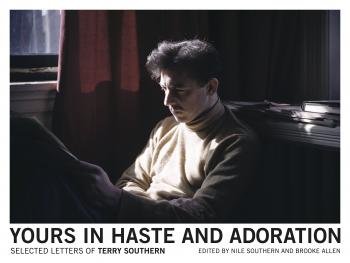 Yours in Haste and Adoration
Selected Letters of Terry Southern
Hardcover

* Individual store prices may vary.
Description
Terry Southern was one of the most outrageous and penetrating satirists of the twentieth century, judged by Gore Vidal to be "the most profoundly witty writer" of their generation. As a novelist (Candy, The Magic Christian, Blue Movie), screenwriter (Dr. Strangelove, Easy Rider, Barbarella), pioneer of the "New Journalism" at Esquire, and writer for Saturday Night Live, Southern had an incomparable gift for exposing the grotesqueries of the American Way of Life while living it to the full. Southern's list of correspondents reads like a cultural Who's Who of the last half-century. In this collection we find letters to fellow writers including Nelson Algren, William S. Burroughs, George Plimpton, Alex Trocchi, Allen Ginsberg, Henry Green, Gregory Corso, playwright Jack Gelber, and Mason Hoffenberg (co-author of Candy). His letters extend to Hollywood luminaries such as Stanley Kubrick, Dennis Hopper, and George Segal. Southern also corresponded through the years with legendary performers and artists of the day, among them Lenny Bruce, Harry Nilsson, Ringo Starr, John Lennon, Larry Rivers, and gallery scene-maker/impresario Robert Fraser. Even more idiosyncratic and outrageous when writing to his friends than he was for an audience, Southern dashed off a plethora of hilarious, shocking, frequently offensive, and unprintable missives to his many friends and colleagues. As this brilliant collection reveals, Southern was one of the great letter writers of the twentieth century.
Praise For Yours in Haste and Adoration: Selected Letters of Terry Southern…
There is a lot of reading between the lines to be done with these letters. -Slate

A must for fans of Southern, that great satirist, and a revealing look into the litbiz of old. -Kirkus Reviews

The greatest novelist-screenwriter ever to come out of Alvarado--and that's wildly underselling the accomplishments of someone responsible for Dr. Strangelove, Easy Rider, and Candy--turns out to have been a funny and prolific writer of letters to the likes of Gore Vidal, Norman Mailer, and at least two Beatles. -Texas Monthly

Hahahahaha. -The New York Times

Among the greatest humor writers of our time, Terry Southern stands alone. -Chevy Chase

I'd say no one writes like this anymore, except NO ONE WROTE LIKE THIS EVER. Shocking, hilarious, poignant, unforgettable--Terry's voice leaps off the page and into your brain, never to be dislodged. -Steven Soderbergh

The Terry Southern letters are as terrific as any awestruck admirer of that writer's careening trajectory through postwar culture could have hoped. They're bawdy (of course), electric with intelligence, outrage, and humor, and often containing fantasias of voice that make them as much miniature short stories or tiny plays. Just the Ginsberg exchange re: Kerouac is literary history up close, and more than worth the price of admission, and the accumulated result of this splendidly-edited and annotated volume is not only better than any Southern biography I can imagine, as funny and heartbreaking as anything he ever managed to get between the covers of a book, but has the power to fill a reader with wonder at the lost worlds that are here briefly and tantalizingly reanimated. -Jonathan Lethem

A glimpse at the correspondence for which Terry was responsible brings to view almost every major player in the vast network of writers, musicians, filmmakers, and high livers that took an active part in the twentieth century...Byron and Eleanor Roosevelt aside, there can be only a few who have spent as much of their lives and talent as Terry Southern, writing these fierce and loving letters to friends and foes alike. -D.A. Pennebaker

This long dreamed-of collection is further confirmation of Terry Southern's versatility. Whether sharing news or gossip, weaving a tall tale, or dismantling the received ideas and hypocrisies of his times, these dispatches astonish the reader with their unique generosity of spirit, irony, satiric invention, and target-specific observation. -Lee Hill, author of A Grand Guy: The Art and Life of Terry Southern

Well-Connected Pseudo-Hipsters of the World Beware: Terry Southern is The Real Thing, and Yours In Haste and Adoration is an uproarious yet eloquent romp through twentieth-century America's most important literary scenes. It reads not so much as a mere collection of letters but as a vital epistolary novel, one that revolves around the life a writer who seemed to always be in the right place at the right time and whose remarkable trajectory through both the avant-garde and pop cultures of the post-WWII era will blow your mind. This isn't about the The Cool School, it's an insider look at what it was like to be the inventor of cool when it all went down. -Mark Amerika, author of remixthebook and META/DATA: A Digital Poetics

The literary canon is in serious need of repair and I put Terry Southern ahead of Hemingway, Faulkner, and Fitzwilly. -Josh Alan Friedman, co-editor of Now Dig This: The Unspeakable Writings of Terry Southern

Southern's profound wit is a light burning in the window of what remains of Western Civilization. -Lewis H. Lapham

This will be Terry's greatest book! -William Styron
ANTIBOOKCLUB, 9780983868392, 368pp.
Publication Date: November 17, 2015
or
Not Currently Available for Direct Purchase