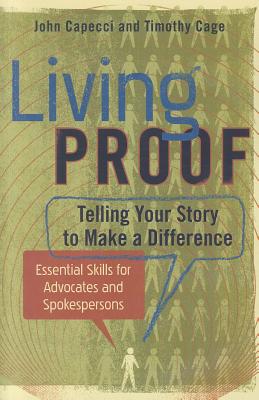 Living Proof (Paperback)
Telling Your Story to Make a Difference
Granville Circle Press, 9780983870302, 195pp.
Publication Date: March 22, 2012
* Individual store prices may vary.
Description
Your personal story has the power to move audiences to act. But how can you make sure you're telling it so it will have the greatest impact?


Living Proof is the first comprehensive guide to telling your personal story as an effective advocate for your cause or organization. Authored by two expert communication trainers, this easy-to-use handbook gathers all the essential skills into one place—everything you'll need to


decide what to tell

deliver your story effectively and authentically

give powerful presentations and great media interviews


Living Proof is for anyone who hopes one person's story can move audiences from apathy to empathy to action—from the mom addressing the school board to the executive director talking to funders, from the advocate appearing on local radio to the national spokesperson interviewed via webcam.Living Proof is written for the millions who stand up and speak out every day.


Living Proof contains examples, tools, principles, exercises and worksheets to help prepare speakers at all levels. It's organized so you can work through the book in a weekend, a week, with a course of study or flip to sections most immediately useful. Whether you're just starting out or looking to take your communication skills to the next level, Living Proof provides the grounding, the confidence and guidance needed to advocate with the power of a well-told personal story.
Praise For Living Proof: Telling Your Story to Make a Difference…
"If we're going to make change, we're going to have to tell our stories and tell them effectively. This book shows us how."


Paul Loeb, Author, Soul of a Citizen




"Everyone's talking about the power of stories these days but we need more resources tohelp advocates, activists and nonprofit communicators find their own voices, get heard and win real change. Living Proof is a sourcebook for trainers and advocates alike that fills that need. It's full of hands-on exercises, goodideas and useful suggestions."


Gordon Mayer, National People's Action




"Stories have the power to bind us together, to bridge our differences, to build community. Sometimes the difference between hope and despair is a well-crafted story delivered with passion and focus. Now more than ever, our world needsordinary people to become master storytellers. This book shows you how."


Eboo Patel , Founder and President, Interfaith Youth Core and Author, Acts of Faith: The Story of an American Muslim, the Struggle for the Soul of a Generation




"We understand the world through stories. This book will help you understand why that is and how to take advantage of them to make the planet a better place."


Bill McKibben , Founder, 350.org




"The principles of rhetoric are translated here into contemporary language to make them accessible to anyone who wants to persuade through storytelling. This book provides instructions, examples, and exercises to make your stories come alive. A superb guide."


Dr. Sonja K. Foss, University of Colorado Denver, Author, Contemporary Perspectives on Rhetoric




"I have never read a more practical guide to advocacy. This book should be on every library director, trustee and advocate's desk for easy reference. I have already used some tips from the book during a press interaction. With the American Library Association's linking of library advocacy to the phrase 'telling our stories,' there's a natural fit between the content of this clearly written and useful book and the work of library advocates."


Michael Colford, Director of Library Services, Boston Public Library


or
Not Currently Available for Direct Purchase