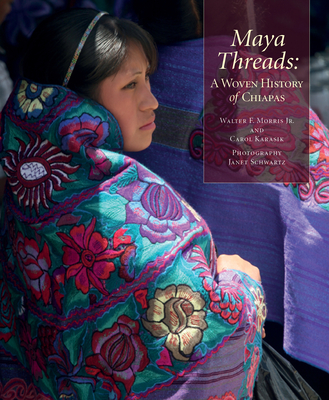 Maya Threads (Paperback)
A Woven History of Chiapas
Thrums Books, 9780983886068, 224pp.
Publication Date: February 15, 2015
* Individual store prices may vary.
About the Author
Walter F. Morris, Jr. became a deep expert in the textiles and culture of the Highlands after traveling to Chiapas as a tourist in 1972. His fluency in Tzotzil and his extensive time in Maya villages have given him unique insights into the history and symbolism of Maya textiles. He is a founder of Sna Jolobil, a weaving collective based in San Cristobal, which both supports weavers and fosters excellence in native textile arts. He received a MacArthur Award in 1983 for his work in textile symbology in Chiapas. Carol Karasik is a writer and editor who has been studying ancient astronomical alignments at Palenque. She is the author of The Drum Wars: A Modern Maya Story and The Turquoise Trail. Janet Schwartz is a native New Yorker who came to Chiapas in 1978 on a Fulbright Scholarship to study the Bonampak murals. She has gone on to become a clothing designer, a tour guide, and ultimately a journalist/photographer with thousands of bylines to her credit. They all live in San Cristobal, Chiapas (Mexico)."
Praise For Maya Threads: A Woven History of Chiapas…
"Immeasurably deep, endlessly layered and nuanced, aesthetically beautiful, resonating with the grounding of ancient ways yet in constant, dynamic flux, the world of the traditional Maya is incomprehensible to those who have not breathed it into their beings. Truly rare are those from the outside who understand it, rarer still are those who can respectfully transmit the complexity of this society to those of us on the outside. Chip Morris is one of these rare individuals, intelligent and humble, with humor and profound insight gained through close to four decades of life in the Chiapan highlands. He is also an excellent storyteller and he and his coauthor, Carol Karasik, do honor to that skill as well as the rich culture they share with us in this book."  —Eric Mindling, Traditions Mexico Cultural Tours, Oaxaca, Mexico
"Walter F. Morris, Jr. speaks with a voice of authority derived from his thirty years of experience working with Maya textile artists in Chiapas, Mexico. His coauthor, Carol Karasik, brings her own experience of the country and its people and an accessible writing style to the book, and Janet Schwartz's beautiful images speak their own language about Maya clothing in bright detail. Maya Threads covers the clothing and customs of Chiapas from ancient to present times, and the changes that have occurred as new materials and influences have affected the culture."  —Margot Blum Schevill, coauthor, Maya Textiles of Guatemala
"Contemporary indigenous dress in Chiapas is a fascinating amalgam of pre-Hispanic Maya traditions and influences from the modern market economy, filtered by the creativity of the people who make and wear it. The authors [of this book] lovingly describe how and why it changed from then to now, based on long-time familiarity with Chiapas as well as new field work and interviews. Together with the gorgeous photographs, there is significantly more detail on the subject here than ever before, in some cases with the exact year and innovator identified. It is warmly recommended to travelers and scholars alike."  —Ann Pollard Rowe, author, A Century of Change in Guatemalan Textiles
"It will be of great help and interest to anyone working in the field of Central American textiles and clothing, as well as those looking for inspiration for their own work. Well worth having!" —Gillian Vogelsang-Eastwood, Director, Textile Research Centre