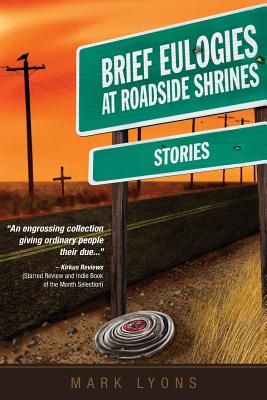 Brief Eulogies at Roadside Shrines
Paperback

* Individual store prices may vary.
Description
Descansos - resting places - are intimate memorials we glimpse at the edge of highways and rural roads that mark a place and moment of profound loss. They are also testaments to what survives. In his vibrant collection of stories, "Brief Eulogies at Roadside Shrines," Mark Lyons builds narrative shrines that redeem what is lost to misfortune and time. A snake-handling preacher - cast out and lost on the highway - finds faith in a junkyard. A hitchhiker feasts on roadkill with a hobo on the Great Plains and discovers the Cosmos. A Mexican-American Border Patrol officer arrests a mojado - a wetback - who asks him a question that makes him confront his own history. An artist whose paintings are rendered colorless by her abusive husband commits an act of vengeance and deliverance. A soldier returns from Iraq and meditates on the fate of the tumbler pigeon he left behind. "Brief Eulogies" are stories about communities - people finding ways to survive their histories, addictions, fears - hoping to reach a better place. Will this be their last home, their last stop on the line; or can they turn to each other and find redemption? A mesmerizing storyteller, Mark Lyons, Director of the Philadelphia Storytelling Project, weaves a collection of stories that reminds us how our lives can change in an instant, usually when we're not looking.
Wild River Consulting & Publishing, LLC, 9780983918875, 218pp.
Publication Date: October 7, 2014
or
Not Currently Available for Direct Purchase