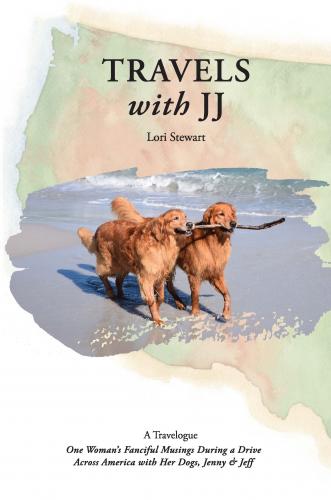 Travels with JJ
Paperback

* Individual store prices may vary.
Description
In this charming, lighthearted account, Stewart writes about rescuing a litter of newborn orphan puppies-a project that began as an effort to engage her aging mother, and turned into soup for their souls. She raises two of the puppies, Jenny and Jeff (JJ) and travels with them across America, to visit old friends in fondly remembered places.

They drive from California's sandy beaches to Maine's rocky shores and back, while listening to the "Great Ideas of Philosophy." Along the way, they explore the volcanoes and moss covered rainforests of the Pacific Northwest; the mountains and rivers, arid high-desert and wild-open spaces of the Mountain West; the Great Plains and Great Lakes of the Midwest; and the cities and farms and summer places of the Eastern Seaboard. They learn about the lifecycles of mayflies, lodgepole pines, horseshoe crabs, and kelp; and begin to understand the ecology, regional history and cultural landscape of this vast, imperfect, and perfectly beautiful country.

Praise For Travels with JJ…
"Delicious. I learned so much and in such a gentle, enthusiastic way… history, geology, philosophy, fauna and flora not to mention the caprices of beloved dogs. I raced through it and was bereft when the travels were over."
–ANNE GARRELS, award winning journalist, long-time foreign correspondent for NPR, and critically-acclaimed author of Naked in Bagdad and Putin Country. She lives on a farm in Norfolk, CT.

"Not everyone has two golden retrievers and a golden chance to drive across the country with them, connecting with old friends in beautiful places along the way. But in Travels with JJ you can do just that –sharing her adventrues, listenting to her stories and feeling as if you've had the best kind of an adventure with the best kind of guide. I'd follow Lori Stewart anywhere, on or off the page."
—PHYLLIS THEROUX, essayist, columnist, teacher and critically acclaimed author of The Journal Keeper, California and Other States of Grace and various other works

There is no more delightful or eloquent travel companion than Lori Stewart. Tag along for this happy sojourn across our great country and back. You'll learn much from a lively narrator who loves dearly the natural wonders of this beautiful place we call home. It may even inspire you to hop in a car, find a pair of congenial golden retrievers for company and follow her trail. If so, Bon Voyage!
—MARGARET MCGIRR, Greenwich, CT.

"Sharply observed, and wittily conveyed, Lori Stewart's Travels with JJ offers a different way of looking at the world. Funny, charming and thought-provoking, it's a journey you will want to take. "
—SONIA ANTAKI, author of Red Dove, Listen to the Wind (2019)
Palmar Press, 9780983929321, 121pp.
Publication Date: May 10, 2018
About the Author
Lori Stewart is an award-winning author of multi-generational books and a range of other works. Born and raised in northern California, she graduated from Santa Clara University with a degree in economics and headed East for careers in finance and technology. She returned to her California roots in 2004 and currently lives and writes in Carmel. In addition to writing, Lori ran AFTA Associates, a non-profit organization she founded to support wildlife conservation through community enterprise. She also works with Ceca Foundation, which promotes quality patient care through caregiver recognition and reward programs; and she serves on the Advisory Board of the innovative Read To Me Project.

Travels with JJ is her first Travelogue. Grandma, Aren't You Glad the World's Finally in Color Today! is her second grandparents' book, and winner of a Gold/1st Place award in the 2014 Feathered Quill Book Awards Program for the Best Juvenile/YA Non-Fiction category, a National Parenting Publications Award (Honor) and a Mom's Choice Award (Gold). Her first book, If I had as many grandchildren as you… received a 2013 Gelett Burgess Children's Book Award and 2012 and 2013 Family Choice Awards. Her other writing have been published in books, brochures, magazines and across the web.
or
Not Currently Available for Direct Purchase