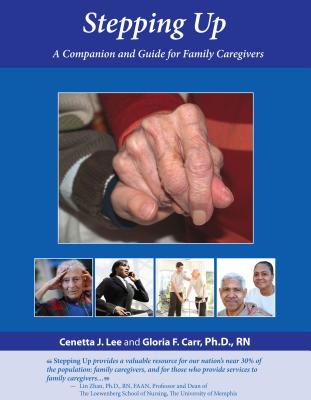 Stepping Up (Paperback)
A Companion and Guide for Family Caregivers
Phronesis Press, 9780983962205, 240pp.
Publication Date: April 15, 2012
* Individual store prices may vary.
Description
STEPPING UP: A Companion and Guide for Family CaregiversPaperback Original, $18.95, April 2012) is an authoritative new book thatown. This guide covers each and every situation that baby-boomers and caregivers face whendealing with their aged family members who are no longer able to manage their own health, finances, and the basic activities of daily living.When co-author Cenetta J. Lee was called upon to care for her two aging aunts and hermother, she spent months researching how best to recognize the signs of a loved one'schange in medical, emotional, and cognitive status. She then started trying to determineexactly what steps she needed to take to ensure her family members were compassionatelycared for.She was shocked at how scattered and incomplete the available information was consideringthe fact that so many of her peers were going through the same experience. A librarian bytrade, Ms. Lee partnered with Gloria F. Carr, Ph.D., a registered nurse specializing ingeriatrics, to create an all-encompassing guide that would help caregivers recognize when it'stime to ask questions or intervene on a loved one's behalf as their health begins to deteriorate.The following areas are among those discussed in this indispensable guide: - Recognizing the symptoms of declining health.- Caring effectively for loved ones at home and managing care outside the home.- Locating and supervising care from a distance.- Common diseases and conditions of the elderly--strokes, cancer and dementia.- Services available toward the end-of-life; and tasks after death.- Essential legal documents and other tips, books, online and agency resources.Supplemented with personal and anecdotal stories, from the medical and healthcare fields such as New England Journal of Medicine, psychosocial care material such as Elisabeth Kubler-Ross' classical works on death and dying, and nationally- known professional associations such as the American Heart Association.(Phronesis Press Trade"every family shouldSTEPPING UP integrates valid researchSTEPPING UPof issues relating to caregiver grief, loss, and burnout. Also, the journal pages included at theend of each chapter provide an outlet for caregivers to record vital information and theiremotions as they work through this very difficult process with their loved ones. No familyshould be without
rich knowledge base for future planning for the compassionate care of one's family members.is particularly useful for caregivers because it includes very personal accountsSTEPPING UP - an essential guide that educates, informs, and provides a.
About the Author
Cenetta J. Lee earned her Bachelor of Library Science and Masters of Library Science degrees from Southern Connecticut State University. Cenetta and her husband, Charles, now live in North Carolina. Gloria F. Carr, Ph.D., RN, FNP-BC is an Assistant Professor at the University of Memphis Loewenberg School of Nursing where she teaches Gerontological Nursing and Nursing Education.
or
Not Currently Available for Direct Purchase