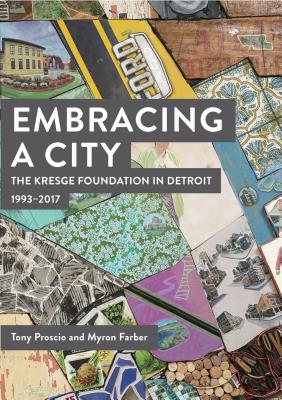 Embracing a City, the Kresge Foundation in Detroit (Paperback)
1993-2017
Kresge Foundation, 9780983965473, 156pp.
Publication Date: December 3, 2018
* Individual store prices may vary.
Description
The book provides a behind-the-scenes look into the unlikely partnerships, unique collaborations, variety of financial tools and bold bets led by The Kresge Foundation during a 13-year period in Detroit to foster a sustainable and equitable recovery for the city and all of its residents. The authors originally imagined the book contents as four individual case studies. In preparation, they performed an exhaustive review of Kresge Foundation historical documents and a comprehensive scan of media coverage and journalistic commentary about Detroit's recovery. They also conducted more than four dozen interviews with the individuals who participated in, witnessed or otherwise impacted the changing tide in the city of Detroit during this period. Once assembled, the authors agreed that-assembling together in context with one another - the content could serve as an important snapshot of some of the positive forces and extreme undercurrents at play in Detroit during this extraordinary time in the city.
About the Author
Tony Proscio is associate director of the Center for Strategic Philanthropy and Civil Society at Duke University and a consultant to foundations and major nonprofit organizations on strategic planning and evaluation. He is co-author, with Paul S. Grogan, of Comeback Cities: A Blueprint for Neighborhood Revival (Westview Press 2000), and author of Becoming What We Can Be: Stories of Community Development in Washington, DC (LISC, 2012). A Detroit native, he has held executive positions in New York State and City government and in the 1990s was associate editor of The Miami Herald.M. A. Farber is an award-winning former investigative reporter for The New York Times. From 2001 to 2014, he conducted oral histories for Columbia University on the 9/11 attack, capital punishment, the Guantanamo Bay prison camp and American philanthropy. Educated at the University of Maryland and Northwestern University, he has contributed to Vanity Fair and Smithsonian magazines and is the author of Somebody is Lying: The Story of Dr. X and co-author of Outrage: The Story Behind the Tawana Brawley Hoax.
or
Not Currently Available for Direct Purchase