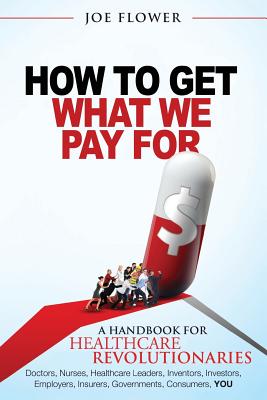 How to Get What We Pay For (Paperback)
A Handbook For Healthcare Revolutionaries: Doctors, Nurses, Healthcare Leaders, Inventors, Investors, Employers, Insur
Change Project, Incorporated, 9780983995333, 326pp.
Publication Date: October 23, 2015
* Individual store prices may vary.
Description
We can fix healthcare now. We can rebuild the system to give us better, cheaper care for everyone. We now have the tools. This is the moment, while healthcare is already changing rapidly.
Who is "we"? Everyone who affects the system, from doctors and nurses to healthcare leaders, health plans, employers, and consumers-you.
Along the way, we can each get better healthcare for less for ourselves and our families.
Joe Flower's remarkable new handbook How To Get What We Pay For shows how-complete with checklists and pages of resources. It challenges all our usual ways of thinking about healthcare, and especially the assumption that we personally cannot do anything about it. A veteran healthcare insider, industry analyst and futurist, and author of thousands of articles and the groundbreaking 2012 book Healthcare Beyond Reform: Doing It Right for Half the Cost, Flower presents an in-depth, easy-to-read breakdown of the current system and the seven "levers" that are changing it:
Shopping
Transparency
Results
Prevention
Targeting
Trust
Tech
As confusing as today's healthcare seems, there is hope. This guide puts the tools in your hands to make better, cheaper healthcare available-sooner rather than later. Read up and let's get started
About the Author
Joe Flower is a veteran health care futurist and analyst who has long forecast the enormous changes in our health care system and projected a strong, positive vision for where we are headed and how to get there, practically. On the board of the Center for Health Design, he is a contributing editor for TheHealthcareBlog.com and regularly appears as a keynote speaker and thought leader at conferences throughout the United States, as well as internationally. Flower is also on the speaking faculty of the American Hospital Association, a regular columnist for its Hospitals & Health Networks Daily and Trustee Magazine, and the author of hundreds of articles, as well as Healthcare Beyond Reform: Doing It Right for Half the Cost, which was named by Strategy+Business Magazine as the best health-care business book of 2012.