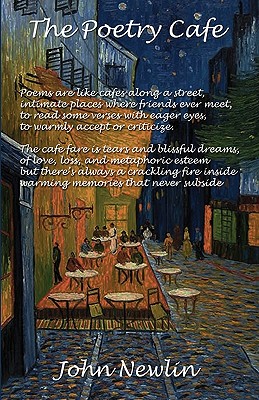 The Poetry Cafe (Paperback)
Casa de Snapdragon Publishing Company, 9780984053018, 278pp.
Publication Date: June 17, 2009
* Individual store prices may vary.
Description
A collection of fine poetry by California poet John Newlin.
About the Author
John always wanted to fly, so he applied to the Navy for acceptance in the Naval Aviation Cadet program. His application was accepted and he was inducted as a Cadet in July of 1957 at the Naval Air Station St. Louis, Missouri. His father died during his transit from St. Louis to Pensacola thus his first two weeks on active duty were spent on emergency leave. Following his father's funeral, John returned to NAS Pensacola to begin his flight training. He was designated a Naval Aviator and commissioned an Ensign in May of 1959. During his 23 year career in the Navy, he flew fighter jets from the decks of 11 different aircraft carriers in the Pacific and Atlantic Oceans and the Mediterranean Sea. He saw aerial combat in the skies over North Vietnam in the summer of 1967. John was serving aboard U.S.S. Forrestal and U.S.S. Enterprise when both suffered horrendous flight deck fires. John applied for and was selected to participate in the Navy's College Degree Program to allow former Naval Aviation Cadets to earn a baccalaureate degree in one calendar year. He earned a Bachelor of Arts degree in mathematics at San Diego State University in the summer of 1970. John's best friend is his wonderful sister Carol Armstrong, who lives in Overgaard, Arizona. His lovely daughter Deidre, is a psychologist living in Oceanside, California. His most favorite nieces are Janet Schomaker of Mesa, Arizona and Sandy Love of Salida, California. John wrote his first poem in his stateroom aboard U.S.S. Ranger at sea in 1974 and has been writing ever since. A former friend and soul mate, Judith Anne Hewson, was the inspiration for many of the poems in this collection for which he is most grateful. John's favorite poets are JB Stillwater, Katriona Wallace, Sylvia Plath, Emily Dickinson, and Pablo Neruda.