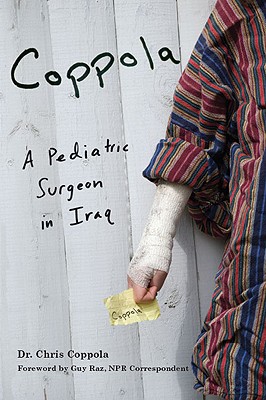 Coppola: A Pediatric Surgeon in Iraq (Hardcover)
A Pediatric Surgeon in Iraq
NTI Upstream, 9780984053117, 265pp.
Publication Date: February 1, 2010
* Individual store prices may vary.
or
Not Currently Available for Direct Purchase
Description
Eric Hoffer Award Finalist and Montaigne Medal Finalist
The fierce, true-life account of United States Air Force pediatric surgeon Lt. Col. Dr. Chris Coppola, this book describes his experiences through two deployments in Operation Iraqi Freedom inside a military trauma hospital at Balad Air Base, just 49 miles north of Baghdad. Novelistic in scope and vision, this memoir extends beyond objective reportage to give genuine voice to U.S. surgeons and soldiers, Iraqi translators, and everyday civilians whose core beliefs have been tested in the turmoil of war. Raw and powerfully moving, it reveals how one man's extraordinary courage and commitment to children survived and flourished even as he witnessed some of the most unspeakable horrors of war.
Praise For Coppola: A Pediatric Surgeon in Iraq…
"Coppola speaks as a witness to human tragedy—a testimony of two deployments in hell . . . This is a heartbreaking memoir by a hero who would never call himself that . . . essential reading for our time."  —Terry Sanders, two-time Academy Award-winning filmmaker, producer/director, Fighting For Life
"War often puts doctors in impossible situations. Dr. Chris Coppola's remarkable account of his experience as a combat surgeon in Iraq throws a whole new light on medicine under fire . . . This is a great read and tribute to the American spirit of generosity."  —Dr. Khassan Baiev, president, the International Committee for the Children of Chechnya and author, The Oath: A Surgeon under Fire
"Compelling, heartwrenching . . . Coppola reveals the true victims of war; the children of Iraq."  —Gunnar Swanson, War Kids Relief"With a quick wit, and a fine tongue, Coppola brings a fresh voice to the war."  —Michael Anthony, Iraq veteran and author,
Mass Casualties: A Young Medic's True Story of Death, Deception, and Dishonor in Iraq
"Powerful, thought-provoking and unforgettable,
A Pediatric Surgeon in Iraq
stands alone among accounts of the Iraq war. Unlike other authors, Chris Coppola has chosen to focus on the two issues that transcend all conflict: our mortality and our sense of morality. Writing with poignant honesty, he illuminates the well-worn generalizations of war with trenchant details, recounting stories about American and Iraqi individuals who must bear, as well as care for, the often tragic consequences of combat. You will never again look at the Iraq war—or any war for that matter—in quite the same way."  —Dr. Pauline Chen, author,
Final Exam: A Surgeon's Reflections on Mortality
, NY Times Columnist
Coverage from NPR
Advertisement