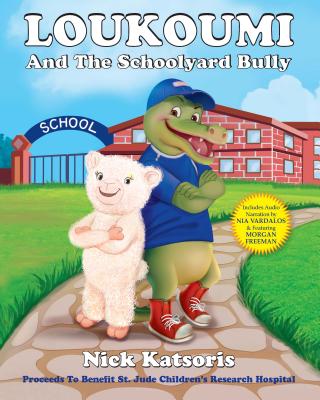 Loukoumi and the Schoolyard Bully
Hardcover

* Individual store prices may vary.
Description
Have you ever been bullied about your name? Has your child come home from school complaining about an interaction with a schoolyard bully? Bullying plagues students in schools around the world, and now Oscar Winners Morgan Freeman, Olympia Dukakis and Oscar Nominee Nia Vardalos lead an all-star cast in the audio narration of the new book, Loukoumi And The Schoolyard Bully by Nick Katsoris (November 2013: Dream Day Press), which teaches kids that bullying is not cool. Proceeds from the book benefit St. Jude Children's Research Hospital. In Loukoumi And The Schoolyard Bully, Loukoumi is about to have a baby brother. When her friends discuss what to name him, schoolyard bully, Igor the alligator, ridicules Loukoumi's name, which Loukoumi explains means sweet in Greek and is a type of jelly candy with powdered sugar on top. During the course of the day, through several common interactions, Igor realizes that he and Loukoumi are more alike than he thought. In the end, he learns that bullying is not cool, and although Loukoumi's name is different, everyone is really all the same. The book includes an audio download of the story narrated by Nia Vardalos, Oscar nominated screenwriter and star of My Big Fat Greek Wedding, and author of the bestselling book Instant Mom. Oscar winner Morgan Freeman voices the role of the schoolyard bully, Igor the alligator. Other character voices, reprising their roles from past Loukoumi audio books, include Oscar winner Olympia Dukakis as Marika the monkey, Grammy Winner Gloria Gaynor as Fistiki the Cat, Days of Our Lives star John Aniston as Loukoumi's Daddy, Tony Nominee Constantine Maroulis as Gus the bear, Actor Frank Dicopoulos as Dean the dog and CBS News anchor Alexis Christoforous as Loukoumi. Loukoumi And The Schoolyard Bully is also part of a Bullying Awareness project with PACER's National Bullying Prevention Center in schools nationwide. Also appearing in the book is the new character of Oinkerella the pig, which was inspired by Caila Tsamutalis, the 10 year-old winner of the Loukoumi Illustration Contest. Sponsored by Katsoris, the contest called on young illustrators to draw a new character to be featured in Loukoumi And The Schoolyard Bully. Ten finalists were chosen and the winner was selected by a combination of Facebook voting and a celebrity judging panel including Celebrity Chef Cat Cora, Alexis Christoforous, Frank Dicopoulos, and FOX News anchor Ernie Anastos.
NK Publications, 9780984161034, 32pp.
Publication Date: November 8, 2013
or
Not Currently Available for Direct Purchase