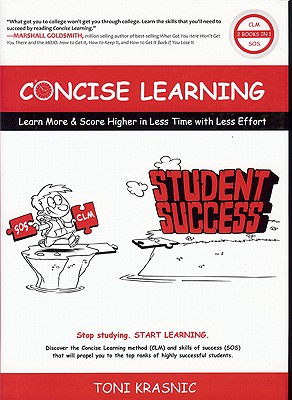 Concise Learning (Hardcover)
Learn More & Score Higher in Less Time with Less Effort
Concise Books Publishing, 9780984191406, 127pp.
Publication Date: July 26, 2010
* Individual store prices may vary.
Description
Concise Learning helps college students learn how to learn and be successful.With the Concise Learning Method (CLM), students learn how to use mind mapping to integrate all class notes into mind maps, transform rote studying into meaningful learning, and become empowered learners.With the Skills of Success (SOS), students learn the 13 success skills needed to succeed in college and life. Each SOS is presented as a two-page, color mind map.CLM and SOS are easy to implement and the results are immediate. Although substantive and comprehensive, the book is written in a light-hearted and conversational style with cartoons, mind maps, and inspiring quotes.Each book also comes with a 6-month free trial of ConceptDraw MindMap, a popular mind mapping program. To get your free access code, simply e-mail the author with your proof of book purchase.Things don't get handed to you in life. Don't be left behind by your current ways; take action now to jumpstart your learning and success today.
About the Author
Toni Krasnic is a trusted voice on learning and student success. Think of your typical professor - only younger, friendlier, and student-centric. What began as a young professor's desire to help students transform the quality of their learning and skills has grown into his lifelong mission to inspire and teach all students HOW TO LEARN and BE SUCCESSFUL.
or
Not Currently Available for Direct Purchase