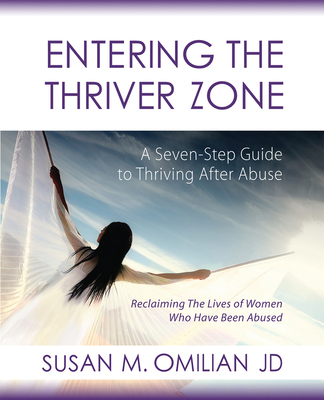 Entering the Thriver Zone
A Seven-Step Guide to Thriving After Abuse (The Thriver Zone Series)
Paperback

* Individual store prices may vary.
Description
No longer a victim, beyond a survivor, she is a "thriver" on the brink of a new life. She's a new breed of woman moving on after abuse and she wants her revenge. Living well is her best revenge. She is pushing through her fears to find positive energy and forge a new future for herself and her children.
Ready to take this life-changing journey of self-discovery from victim to survivor to "thriver" and permanently break the cycle of violence in your life?
Author Susan Omilian has used her seven-step motivational process to assist hundreds of women on their journey over the last fifteen years. Now in book form with easy-to-use worksheets, invigorating writing exercises and inspirational thriver success stories, readers will...
See their journey from struggle to transformation to happy ending.
Quiet critical voices and awaken their Happy Person Inside.
Attract positive energy to push through their fears.
Set new, achievable goals to put them in the thriver zone.
The innovative material in this guide is valuable not only for victims of abuse but also for their families, friends, counselors, therapists, crisis center staffs, and attorneys. It is a resource for these helpers and supporters, offering a process for the journey to thriving for those caught in this web of abuse.
Praise For Entering the Thriver Zone: A Seven-Step Guide to Thriving After Abuse (The Thriver Zone Series)…
"This book offers faith, courage and dignity to women who have survived the destructive and selfish actions of abusive men. Susan's message is 'Don't settle for anything less than a life that is better than ever.' She knows that women can do it and by the time a woman has worked her way through this excellent guidebook for healing, she will believe it, too."  —Lundy Bancroft, author, Why Does He Do That?: Inside the Minds of Angry and Controlling Men

"Susan begins with a rare insight that what makes a battered woman is not what the abuser has done to her but what he has kept her from doing for herself and then takes her readers on a jubilant journey of self-realization. On the way, Susan helps them remake their world and get back in touch with their power and possibility." Evan Stark PhD, MSW, author, Coercive Control: How Men Entrap Women in Personal Life

"Susan's guide will touch a responsive chord in women who have been abused and those who advocate for them. Susan's creativity, her inspirational workshops and her own personal journey make this book a must read for anyone interested in the empowerment of women."  —Alyce LaViolette, author, It Could Happen to Anyone: Why Battered Women Stay
Butterfly Bliss Productions, 9780984250929, 160pp.
Publication Date: September 16, 2016
About the Author
Susan M. Omilian JD is an attorney and women's rights advocate. She has helped hundreds of women on their journey from victim to survivor to thriver for the past four decades. Her award-winning work allows women to permanently break the cycle of abuse and create new, vibrant futures for themselves and their children. She is the author of Awaken. She lives in West Hartford, Connecticut.