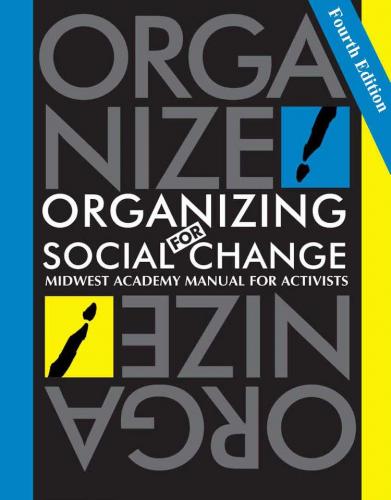 Organizing for Social Change 4th Edition (Paperback)
The Forum Press, 9780984275212, 401pp.
Publication Date: January 1, 2010
* Individual store prices may vary.
Description
Organizing for Social Change 4th Edition is a comprehensive manual of essential tools for direct action organizing. It provides clear and concise information on the many skills it takes to make social change: recruitment, tactics, public speaking, using the media and building powerful organizations. Learn to think strategically, act effectively and get results!

Organizing for Social Change 4th Edition has been an invaluable reference source for countless activists and organizers working for social, environmental and economic justice at the local, state, national and international levels. It includes examples of real-life organizations working on labor issues, the environment, energy, health care, immigration, public campaign financing and more.

Whatever the cause, this is the manual which helps organizers ensure that they reach their goals with efficiency and dignity. USE IT AND ORGANIZE!

http://www.organizingforsocialchange.com/
About the Author
KIM BOBO is the founder and director of Interfaith Worker Justice. Bobo was a trainer with the Midwest Academy for ten years and is the author of Wage Theft in America.
JACKIE KENDALL is the Executive Director of the Midwest Academy.
Kendall has worked extensively with senior citizen, student, and citizen action organizations and coalitions at the local, state and national levels.
STEVE MAX has organized for over four decades in civil right, labor, community organizations and coalitions. He is a lead trainer and the designer of the Academy's Economic Education Program.
Praise For Organizing for Social Change 4th Edition…
People power can still trump the power of big money. This book will tell you how to organize that power.
—Congresswoman Jan Schakowsky

Great book, recently updated. Clear, detailed and practical guide to the many dimensions of community organizing, from planning to volunteer recruitment, fundraising, actions and much more. My students liked the book, and those with activist ambitions kept it. Thanks to The Forum Press for publishing and promoting this valuable tool for grassroots democracy!
—Paul Lachelier, Founder, Learning Life, Sociologist PhD, Stetson University

In the hands of young organizers, this book has helped to build strategic campaigns, provide best practices and develop the next generation of leaders.
—Gregory Cendana, President 2009-10, United States Student Association (USSA)

Organizing for Social Change 4th Edition is required reading for anyone who thinks regular folks (not politicians, officials, or other self-anointed saviors) must be the engine for social change.
—Joel Davison Harden, Registrar, Labour College of Canada
or
Not Currently Available for Direct Purchase