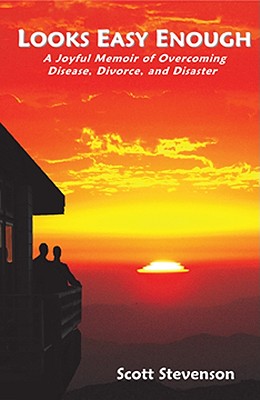 Looks Easy Enough (Paperback)
A Joyful Memoir of Overcoming Disease, Divorce, and Disaster
Deadora Press, 9780984281008, 451pp.
Publication Date: March 8, 2010
* Individual store prices may vary.
Description
LOOKS EASY ENOUGH is a work of narrative non-fiction recounting a four year period in the author's life where at the age of forty-six he marries for the first time, retires, and moves with his bride to a small mountain town to live the simple life. Instead, he finds himself supporting his wife through cancer, helping his sister through a grueling four year divorce from an abusive husband, painfully witnessing their retirement money circle the drain in the biggest stock market crash since the Great Depression, and watching as a thousand foot wall of dense smoke and raging flames (the Cedar Fire - San Diego, California) approaches their home – the home they spent the last three years building themselves. With the flames less than a hundred yards from their back door they realize, they could lose everything. Yet through it all – cancer, divorce, market crashes, and forest fires - the author ultimately sees the events for what they really are . . . and comes out smiling.
The refrain, "looks easy enough" is the author's general attitude towards life's many processes – from breast reconstruction (cancer) to pouring concrete foundations to filing legal documents. It is also intended as an empowering affirmation to inspire readers with the confidence that they, too, can tackle even the most disheartening of life's challenges and land on their feet.
The book is a tale of love, adventure, personal growth, a do-it-yourself story and a comedy all rolled into one compulsively readable volume.
About the Author
"Looks Easy Enough" is Scott Stevenson's first book. The book is based on his personal experiences and on a lifetime of asking questions, keeping his eyes and ears open, and trying to figure out what makes this funny world of ours go round. Scott, his wife Susan, and their feisty young tabby Little Ray live in the small mountain town of Julian, California. Scott's future plans include carving a totem pole recounting the story of how he and Susan met and working on his tennis game in an effort to become the oldest person (over 60) to obtain an ATP tennis ranking.
or
Not Currently Available for Direct Purchase