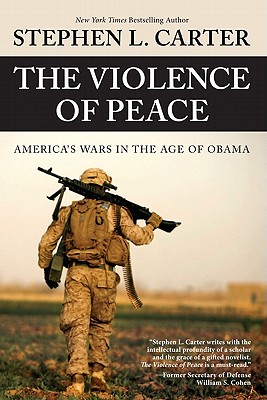 The Violence of Peace (Hardcover)
America's Wars in the Age of Obama
Beast Books, 9780984295173, 272pp.
Publication Date: January 1, 2011
Other Editions of This Title:
Paperback (12/6/2011)
* Individual store prices may vary.
Description
"The man who many considered the peace candidate in the last election was transformed into a war president," writes bestselling author and leading academic Stephen l. Carter in The Violence of Peace, his new book decoding what President Barack Obama's views on war mean for America and its role in military conflict, now and going forward. As America winds down a war in Iraq, ratchets up another in Afghanistan, and continues a global war on terrorism, Carter delves into the implications of the military philosophy Obama has adopted through his first two years in office. Responding to the invitation that Obama himself issued in his Nobel address, Carter uses the tools of the Western tradition of just and unjust war to evaluate Obama's actions and words about military conflict, offering insight into how the president will handle existing and future wars, and into how his judgment will shape America's fate. Carter also explores war as a way to defend others from tyrannical regimes, which Obama has endorsed but not yet tested, and reveals the surprising ways in which some of the tactics Obama has used or authorized are more extreme than those of his predecessor, George W. Bush. "Keeping the nation at peace," Carter writes, "often requires battle," and this book lays bare exactly how America's wars in Afghanistan and Iraq are shaping the way Obama views the country's role in conflict and peace, ultimately determining the fate of the nation.
About the Author
Stephen L. Carter is the William Nelson Cromwell Professor of Law at Yale, where he has taught for almost thirty years. He is the author of four bestselling novels, including "The Emperor of Ocean Park" (2002), and seven acclaimed works of nonfiction. Among his nonfiction books are "The Culture of Disbelief: How American Law and Politics Trivialize Religious Devotion" (1993); "Civility: Manners, Morals and the Etiquette of Democracy" (1998); and " God's Name in Vain: The Wrongs and Rights of Religion in Politics" (2000). He lives with his family in Connecticut.
Praise For The Violence of Peace: America's Wars in the Age of Obama…
Henry Louis Gates, Jr., Alphonse Fletcher University Professor, Harvard University
"In this very important book, Stephen Carter demands, and provides, a clear-eyed ethical examination of Obama's ideas about just and unjust war — nothing less than what is worth dying for."
Former Secretary of Defense William S. Cohen
"In this brilliant examination of the moral dimensions involved in our nation's decision to wage—or refuse to wage—war, Stephen L. Carter writes with the intellectual profundity of a scholar and the grace of a gifted novelist. The Violence of Peace is a must-read."
Publishers Weekly
Distinguished Yale Law professor and bestselling author Carter (The Emperor of Ocean Park) examines Obama's words (particularly his invocation of the "just war tradition" during his Nobel Peace prize acceptance speech) and actions in order to determine his position on "what he believes to be worth fighting for." Rather than vilifying Obama, who has continued the dubious war-mongering of his predecessor, Carter believes that neither Bush nor Obama had much choice, arguing that modern warfare, involving drone attacks and long-distance fighting, is an autopoietic process. Carter delves into Obama's orientation toward the tenets of Just War, the theory that has dominated Western thought since the Roman era: jus ad bellum (just cause for going to war); jus in bello (just conduct within war); jus ad pacem (success in war); and pacem in terris (peace). The author cites Dissent editor Michael Walzer and other prominent political scientists almost as frequently as he does the president, and includes examples of warfare from the American Civil War to Afghanistan, resulting in a thoughtful examination of America's engagement in a "great war" undertaken by a dedicated thinker on the subject.
Kirkus Reviews
Barack Obama, Bushian warmonger. That's an oversimplification of the author's argument, but the point remains: As noted legal scholar and novelist Carter examines the morality of war, and in particular President Obama's theory of just war, he concludes that the continuum from Bush to current times is more continuous than disrupted. President Obama, writes the author, has failed to discontinue many of his predecessor's practices, even ones against which he campaigned. For one thing, though at least in theory America does not torture its captives, there is no evidence to suggest that "rendition" to countries less scrupulous about waterboarding and fingernail-pulling has diminished since 2008. The Obama administration seems to have accepted without much qualification the theory, thoroughly applied during the Bush years but antedating them, that American citizens who aid the enemy are candidates not for trial but for assassination. Obama may even go a step further than Bush, Carter writes, should he become actively committed to the principle that citizens oppressed by their governments are candidates for deliverance by American warriors. The author provides lucid commentary on the complexities of jus in bello theories, and he seems to be a realist: America has real enemies in the world, against whom real opposition is wanted. The so-called War on Terror has as its goal not victory but prevention, and, given that "you cannot keep your enemy from striking unless you know his plans," the ability to acquire that knowledge in a timely way becomes paramount – though whether the means justify the ends remains a matter for argument. Smart, nuanced and worrying, given a nation mired in two wars – and with more, perhaps, on the horizon.
Coverage from NPR
or
Not Currently Available for Direct Purchase