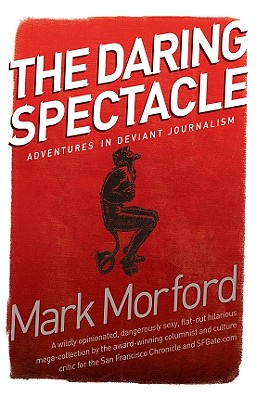 The Daring Spectacle (Paperback)
Adventures in Deviant Journalism
Rapture Machine, 9780984299706, 346pp.
Publication Date: March 1, 2010
* Individual store prices may vary.
Description
The Daring Spectacle is award-winning San Francisco Chronicle/SFGate columnist and culture critic Mark Morford's hilarious modern record of sex and media, politics and pop culture, love and lust, as told in ninety-two delectable partsnot including all the delicious photos and terrifying hate mail. Since its inception in SFGate.com nearly 10 years ago, Morford's hyperliterate, often controversial, smartly unhinged Notes & Errata" column has achieved an avid cultlike status, and is regularly one of the most read and emailed works on the entire site. The book contains nearly 100 columns, 50 pieces of nicely shocking hate mail, with fresh commentary added to every column, along with photos, snippets, banned work, and various journalistic sacrilege that all points to one undeniable fact: There's simply no other opinion columnist quite like Morford in American media today. Please undress accordingly.
About the Author
Mark Morford is an award-winning columnist and culture critic for the San Francisco Chronicle and its website, SFGate.com, currently the 7th most popular news website in the country. He's also a popular Vinyasa yoga teacher in San Francisco. He was raised by nubile, long-eyelashed, callipygian wood nymphs and spoon fed dark chocolate and raw pomegranate seeds and 18-year-old Scotch until he could fly. His work has appeared in a number of fine publications including Mother Jones, Yoga Journal, Men's Health, The Sun, and The Bark, but not Guns & Ammo or Quilter's World, so please stop asking. He has twice won first place in the National Society of Newspaper Columnists annual contest, and been nominated for multiple GLAAD awards for his work supporting gay rights, a fact for which he feels particularly grateful, considering how he's relatively sure he is exceedingly straight. He's also a regular contributor to the Huffington Post.
or
Not Currently Available for Direct Purchase