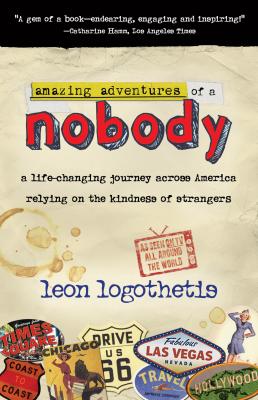 Amazing Adventures of a Nobody (Paperback)
A Life Changing Journey Across America Relying on the Kindness of Strangers
Bettie Young's Books, 9780984308132, 234pp.
Publication Date: October 1, 2011
Description
Aired in 100 Countries Around the World From the star of the Fox Reality and National Geographic Channel's Adventures of a Nobody In a time of economic anxiety, global terror, and shaken confidence, the Star of the National Geographic Channel's Adventures of a Nobody, Leon Logothetis, shows us what is good about mankind: the simple calling people have to connect to others. ABOUT THE BOOK A gem of a book; endearing, engaging and inspiring. -Catharine Hamm, Los Angeles Times Travel Editor Tired of his disconnected life and uninspiring job, Leon Logothetis leaves it all behind-job, money, home, even his cell phone-and hits the road with nothing but the clothes on his back and five dollars in his pocket, relying on the kindness of strangers and the serendipity of the open road for his daily keep. Along the way, Leon offers up the intriguing and charming tales gathered along his one-of-a-kind journey riding in trains and buses and big rigs and classic cars; sleeping on streets and couches and firehouses; meeting pimps and preachers, astronauts and single moms, celebrities and homeless families, veterans and communists. Each day of his journey, we catch sight of the invisible spiritual underpinning of society in these stories of companionship-and sheer adventure-that prove that the kind, good soul of mankind has not been lost. Masterful storytelling Leon begins his journey as a merry prankster and ends a grinning philosopher. Really funny-and insightful, too.-Karen Salmansohn, Oprah.com Relationship Columnist, AOL Career Coach If you're looking to find meaning in this disconnected world of ours, this book contains many clues." -Psychology Today "The indefatigable Leon Logothetis elicits generosity and kindness, and occasionally some nuttiness...on his endearingly frugal journey. We also get some great travel tips, too."-Kyle Wagner, Travel Editor, Denver Post.
Advertisement