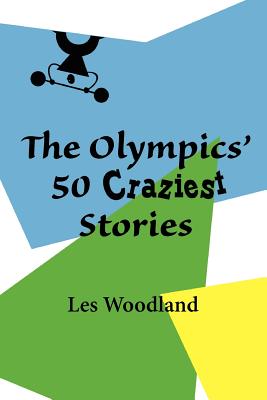 The Olympics' 50 Craziest Stories
Paperback

* Individual store prices may vary.
Description
Citius, Altius, Fortius (Faster, Higher, Stronger) is the motto of the International Olympic Committee. After reading Les Woodland's "The Olympics' 50 Craziest Stories" the reader might wonder if the motto should be Sillier, Loonier, Crazier. There is the gentle rower who was winning his race when he stopped his scull to avoid scattering a mother duck and her ducklings-we'll let your read the book to find out how he did-and the American socialites who showed up for a golf game in Paris and accidentally ended up in the Olympic golf contest. There was so much confusion that year they never learned one of them had become Olympic champion. Oh, and the men's Olympic golf champion had actually journeyed to Paris to play tennis. Shooting live pigeons was an event in the 1900 Olympics, but there's no mention today of the competition out of embarrassment over the 300 dead and maimed birds that revulsed the spectators. We can't forget the Jamaican bobsled team nor the Russian KGB colonel who rigged the scoring in fencing and managed to create an international incident. They are all in "The Olympics' 50 Craziest Stories," along with dozens more athletes who managed to attain fame they would rather not have earned. In addition to the 50 stories of competitors behaving badly, or at least oddly, Les Woodland has sprinkled collections of interesting and sometimes improbable Olympics facts throughout, making "The Olympics' 50 Craziest Stories" fun from cover to cover. As the author of 26 books, Les Woodland knows how to tell a story and here he's in fine form. Join him in his trip to the crazy side of sports.
McGann Publishing LLC, 9780984311781, 160pp.
Publication Date: December 16, 2011