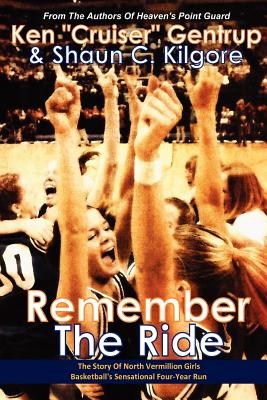 Remember The Ride
The Story Of North Vermillion Girls Basketball's Sensational Four-Year Run
Paperback

* Individual store prices may vary.
Description
From 2000 through 2004, a small Indiana high school's girls basketball program engaged in an amazing four seasons of play. Led by Coach Ken "Cruiser" Gentrup, the North Vermillion Lady Falcons and assistant coaches reached unimagined heights. In 2002, Gentrup led his girls in a race to the top, ending with the Class A State Championship crown and other titles to their credit. The team returned to defend their title in 2003. Along the way, the Lady Falcons broke records and took their school and the fans on an amazing fifty-game winning streak. Remember The Ride is their story, the story of a group of talented young women who achieved big dreams by putting all of their ambition and skill to the test. The Lady Falcons made history and drew together the people of their community and others and took them on one memorable journey. Remember The Ride, written from Coach Gentrup's perspective, offers fans and newcomers alike a chance to glimpse the story anew and get some inside perspective into what it took to make high school girls basketball history.
Founders House Publishing LLC, 9780984376438, 236pp.
Publication Date: January 16, 2012
About the Author
KEN "CRUISER" GENTRUP was born in Lawrenceburg, Indiana but moved Cayuga, Indiana as a senior in high school in 1967. He graduated from North Vermillion High School in 1968. He currently lives in Covington, Indiana with his wife Rhonda. Ken coached the 2002 Class A girls state basketball champions at North Vermillion. He is co-author of the book Heaven's Point Guard: The Kirk Gentrup Story. SHAUN C. KILGORE, also a graduate of North Vermillion, has been freelance writing for six years. He is co-author of the books Heaven's Point Guard: The Kirk Gentrup Story and Autumn Sky. Shaun is co-owner of Founders House Publishing. He currently lives in Danville, Illinois with his wife and children.