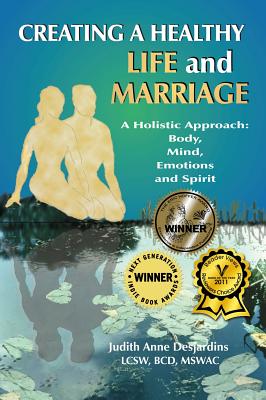 Creating a Healthy Life and Marriage (Hardcover)
A Holistic Approach: Body, Mind, Emotions and Spirit
Spirit House Publishing, 9780984387502, 385pp.
Publication Date: June 1, 2010
* Individual store prices may vary.
Description
Winner of 16 prestigous book awards in the United States and Canada, the message of this book is one of hope and optimism that we can improve ourselves and our relationships with others. The material in this book was gleaned from Judith Desjardins' personal journey of healing and transformation. Filled with insight into all the seasons of growth in relationships-childhood, teen years, young adult, mature adult, Judith provides a wealth of wisdom and practical self-help tools for solving the problems encountered in relationships. This book is for young people who are dating and struggling to find their unique identity, single adults who aspire to a committed relationship, married couples, and anyone who wants a deeper, more meaningfull relationship with themselves. It is practical and educational, inspiring and poignant. The unique holistic approach teaches people how to achieve balance with their body, mind, emotions and spirit. There are 21 full-color illustrations and an Index.
About the Author
Judith Anne Desjardins is a Licensed Clinical Social Worker, a Board Certified Diplomat in Clinical Social Work, and a Master Social Work Addictions Counselor. She received her Bachelor of Arts with Honors from the University of Wyoming and her Master of Social Work degree from Arizona State University. With listings in Who's Who in the World, Who's Who in America, Who's Who in Medicine and Healthcare, and Who's Who in American Women, Judith has combined her own personal journey of healing and transformation with her holistic approach to treatment in this exciting book. As an educator, she has taught nationally and in Canada, and has maintained a thirty-three-year holistic private psychotherapy practice. She has specialty training in Jin Shin Do acupressure, Jungian and Gestalt therapy, and has worked in various clinical settings including oncology social work, in-patient psychiatry, homeless shelter, and outpatient substance abuse. Judith Anne Desjardins is a available for consultations, workshops, and speaking engagements. For information regarding her availability, please visit: judithannedesjardins.com or spirithousepub@verizon.net
Praise For Creating a Healthy Life and Marriage: A Holistic Approach: Body, Mind, Emotions and Spirit…
Creating a Healthy Life and Marriage is really a new beginning to properly train and socialize a
wounded adult back into society, the workplace, and family life. Essentially, the process is like
that of an infant learning to crawl, stand, walk, and explore the world around them, with the
loving and caring guidance that lacked in childhood.  Judith also includes a section on forgiving;
releasing resentment and bitterness of the perpetrator(s) of the emotional damage. I found this
chapter in particular to be quite beneficial.  It isn't easy to forgive.  Judith writes in her book,
"Forgiveness doesn't erase the event, but it does heal the wound.  When you forgive the person
who hurt you, you are allowing yourself to move forward in a state of peacefulness.  You are
letting go of the event, the person who harmed you, the hurt, the resentment. You are
free!"   This statement really resonated within me.  It's clear that we have the power within
ourselves to let go of the bitterness and live a harmonious life.
       
I would encourage anyone to read Creating a Healthy Life and Marriage, not only because the
material is well presented, but also will enrich important aspects of your life. The author does not
criticize nor direct how someone should feel or interpret the readers' thoughts.  This book is
particularly recommended for people who have tried unsuccessfully to use traditional therapy to
resolve current difficult relationships and ongoing life struggles. Beautifully hard-cover bound,
the book has full color artwork created by Judith and her art therapy students.  Reading Creating
a Healthy Life and Marriage with an open mind will replenish your spirit and nourish your soul. We all strive to live a happy and whole life.  Most of us want to meet the right person and have a
healthy relationship, which will blossom into a loving marriage. We don't want to be tormented
by the past.  We want to be loved.  We want to be able to love.  Judith Anne Desjardins new
book entitled, Creating a Healthy Life and Marriage: A Holistic Approach: Body, Mind,
Emotions and Spirit is unique in its kind; offering a holistic approach with her professional
objectivity. Throughout this book readers are guided on a spiritual journey finding out who they
are and given the tools to live a healthy emotional lifestyle.
 
Judith Anne Desjardins is a Licensed Clinical Social Worker, a Board Certified Diplomat in
Clinical Social Work, and a Master Social Work Addictions Counselor in Santa Monica,
California.  She has many years of experience both clinically and personally.  Judith writes
openly in her book about her own life struggles that have affected her. She writes about how she
had to work hard to make the necessary healthy changes in her life.  It wasn't easy to face the
pain, but by doing so Judith now has a happy marriage and was given the added confidence to
write this book so others can learn from her personal experiences.
 
Judith brings home the essence of what is needed as toddlers and adolescents for creating
emotional stability. She spells it out simply as love, guidance, and approval along with a few
other very fundamental needs of children. She makes it very clear as to the damage caused by
emotional and physical abuse, over-protection, under-guidance, abandonment and other acts that
parents at times do not even realize are occurring. The realization of these issues and the
guidance to work these often subconsciously buried issues to closure is the key to one's personal
transformation. 
       
Featured Book of The Month
August 2010
Pacific Book Review
First Place Winner

Reviewers Choice Awards 2011
Relationships
Kick Start Guy Book of the Year 2011
2010 Finalist: Non Fiction - Relationships

READERS FAVORITE AWARD
Creating a Healthy Life and Marriage by Judith Anne Desjardins – A Book Review
I decided to read Creating A Healthy Life and Marriage when it got Reader Views's Book of the year.  It presents a comprehensive approach to a healthy life by guiding the reader to search within. Desjardins presents information about our psychological development in a very simple way. The reader will be able to apply this found knowledge onto themselves immediately through simple charts and questionnaires. But she doesn't stop there!  She also shares her own journey, showing her charts as example. At the end, my favorite part, Desjardins shares stories written by some of her patients during their writing therapy.
I'm always open to self-growth books, however many times I don't get to the end without skipping pages.  This time was different. I loved it. I took my time, took the questionnaires, and read the stories. I found this book to have a well of knowledge, without feeling like a textbook; I also found it personable without being preachy. Very well written, it will keep the reader reading while finding insights about themselves. Truly a book of the year!
Susan Violante Author of
Innocent War
"In order to fully experience love, you must first find it within yourself."
     This powerful, yet compassionate book was born as the result of a dream, and it's relationship to the author, Judith Anne Desjardins.  She has bared her personal journey of healing and finding her true identity, connecting the reader with this subject. Combined with her professional wisdom, she has produced a comprehensive book for the reader based on the Holistic approach to create a healthy life, belief in self-empowerment, responsibility and personal transformation.
     Most of us have heard the phrase "the past can ruin your future" or the term 'Inner Child.'  These terms and their significance are thoroughly explained.  J.D. believes   children have five emotional/psychological needs, developing their own coping mechanisms as a child.  Whether one or all of the needs were met, or not met, defines how the child will react in their adult life, even in the capacity to give or receive love.     Thousands of people reach a traumatic point in life, when they realize they are not making healthy or fulfilling choices.  Many spend years repeating the pattern of failed relationships, leading to self doubt, poor self esteem, even developing physical ailments.
     She teaches the value of our conscious and unconscious.  That forgiveness has to be learned, it does not erase the event or wound, but can set you free.  If you do not resolve your personal issues, they become like a toxin having the capacity to destroy your life. Included are chapters on dating and developing relationship skills. It is imperative to have a solid relationship with your own self, in order to maintain a healthy relationship with others.
     Judith Desjardins has maintained a 33- year holistic psychology practice.  Having been raised in a military family, she learned appreciation for multiple cultures and religions.  She has been an educator in the U.S. as well as Canada, but emphasizes her greatest achievement to be her marriage, children, their spouses and grandchildren.
     It has taken her 15 years to prepare this straightforward, life altering, self-help guide.  Take the time to participate in the provided exercises and analysis. Review now finished, I intend to take my time with it.  I have renewed energy in my own search and  understanding of what I need to do, not to mention Hope!  It is my pleasure to give the Highest of Recommendations!
Reviewer:  Cheryl Heinrichs, Allbooks Review
The night before her wedding, Judith Desjardins sits alone in her room, sick with dread.
She is stilled by the consuming fear that she's going to get it all wrong, all over again.She's been married and divorced twice already and even though
this
time it feels right,she can't ignore the nugget of fear and doubt that tells her something is wrong. Something
is
wrong. Like many couples, Desjardins and her husband are illpreparedfor the onslaught of post-honeymoon marital issues which, if ignored, insistently eat away at the fibers of a marriage. But more than this, as an individual, Desjardins is deeply flawed. If she yearns for a healthy marriage, she must first learn to heal herself. It is with this spirit of self-examination and healing that Desjardins offers readers
Creating A Healthy Life and Marriage
, an all-encompassing guide to fostering healthy, happy relationships. Divided into eight sections, this book takes readers through a step-by-step processof internal transformation. Placing great emphasis on the importance of the individual'srelationship with one's self, Desjardins guides readers through a provoking examinationof childhood relationships. Using the term "Inner Child" to describe the "authentic self,"readers analyze unmet emotional and psychological needs rooted in the formative yearsof their development. This assessment of the inner child forms the basis of Desjardins'theory of holistic healing: because "body, mind, emotions, and spirit" work in synthesisto produce healthy individuals, and by extension, a healthy marriage, a reader mustconfront and recognize the wants and needs of his or her inner child and in doing so,recognize the deficiencies in his or her own character. Each chapter builds on the skills honed in the previous section, with activeexercises assigned for each major emotional investigation. These "homeworkassignments" are thoroughly constructed and move beyond superficial self- help jargon.Though the litany of self- help questionnaires is both visually and psychologicallyexhausting, the questionnaires pose probing, often uncomfortable, but necessaryquestions about family history and personal traits. The book is not meant to be a quick,browse-at-random self- help manual. There are expectations placed on the reader--he orshe is required to be an active participant in his or her own healing. One of the major strengths of this book is the inclusion of excerpts from thecreative work of Desjardins' own therapy clients. As a licensed clinical social worker anda practitioner of ho listic psychotherapy, Desjardins' use of creative writing and arttherapy is exemplified through the work of her clients and gives readers a realistic senseof how the process of transformation unfolds in real lives. A comprehensive and interactive guide for building lasting relationships,
Creatinga Healthy Life and Marriage
will appeal to readers both married and single wishing toinvest serious time and effort into the journey of self-healing and improvement. Shoilee Khan, ForeWord Reviews, September 2010.
"Creating a Healthy Life and Marriage- A Holistic Approach: Body, Mind, Emotions, and Spirit" is written by Judith Anne Desjardins, LCSW, BCD, MSWAC (for those unfamiliar with the credential abbreviations they stand for Licensed Clinical Social Worker, Board Certified Diplomat in Clinical Social Work, and a Master Social Work Addictions Counselor). Desjardins is an educator and has maintained a holistic private psychotherapy practice for 33 years.
Her goal in penning the book "... is that you will make the commitment to learn everything you can to make your marriage healthy, successful, and the fulfillment of your dreams. Like the transmission of AIDs, an unhealthy marriage is preventable. Even if you are currently in an unhealthy marriage, you can still do the work on yourself. It may change the course of your marriage. When you are healthier, the marriage may become healthier. At any rate you will be about to evaluate your marriage from a healthy perspective and decide what is best for you." (p. 16)
Desjardins provides guidance in such areas as how to prepare yourself to be a good mate, inner child work, and working together to achieve a healthy relationship and marriage. The book is very hands-on as there are questionnaires and evaluations throughout many of the sections which allow the reader to reflect on his/her personal situation. I found that Desjardins provides sound advice and presents the information in an easy-to-understand, well-organized format. I recommend "Creating a Healthy Life and Marriage- A Holistic Approach: Body, Mind, Emotions, and Spirit" to anyone who is interested in leading a healthier life.
Reviewed by Kam Aures for RebeccasReads.com (12/10)
USA Book News
The National "Best Books 2010" Awards
Award Winning Finalist in 3 Categories:
Health: Psychology/Mental Health
Self-Help: Relationships
Spirituality: Inspirational
2010 READERS
FAVORITE AWARD
Silver Award Winner,
Non-fiction - Relationships
WINNER
Allbooks Review Editor's Choice Award 2011 - Category: Health
Second Place Winner
RebeccasReads
Written Art Awards 2011
Nonfiction: Self-Help
or
Not Currently Available for Direct Purchase