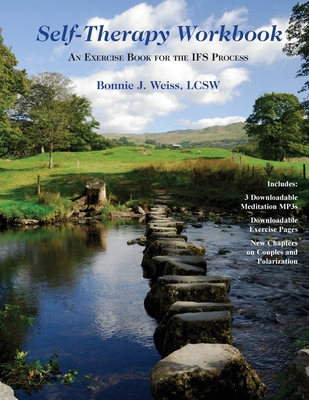 Self-Therapy Workbook
An Exercise Book For The IFS Process
Paperback

* Individual store prices may vary.
Description
This workbook is a companion to Self Therapy by Jay Earley. It is a clear and concise description of the steps in the IFS process designed for people using IFS to do personal work on themselves or professionals introducing the material to their clients. It provides written exercises that give readers a chance to process their experience and track their internal work. It includes sample answers that clarify how to do the exercises, and illustrations that provide a visual understanding the material. There are additional chapters on working with couples and dealing with polarization.
Pattern System Books, 9780984392742, 182pp.
Publication Date: December 5, 2013
About the Author
Bonnie Weiss, M.A., LCSW, is a psychotherapist, teacher, supervisor, trainer, and coach who has been practicing since 1974. Her distinctive approach incorporates the Internal Family Systems (IFS) model into an emotionally-deep, present-centered, yet action-oriented way of working. She combines a quick mind, clear insight, and sharp intuition with solid experience in developing trusting and meaningful transformative relationships. Her commitment is to facilitate personal growth and help people live to their highest potential. Bonnie teaches classes and workshops on the Inner Critic, self-esteem, overeating, and IFS, most recently in Israel, Ireland, and at Easlen Institute. She is the author of Self Therapy for Your Inner Critic, The Illustrated Workbook for Self Therapy for You Inner Critic, and Activating Your Inner Champion, and Letting Go of Perfectionism, and producer of a number of audio products including IFS Classe, Demonstration Sessions, Meditations. Bonnie serves as program design and development consultant for Lucid Learning Systems, a provider of curriculum for personal transformation. She was a director and faculty member of the Gestalt Therapy in Long Island and co-director of the Long Island Center for Eating Disorders. Her private practice in the Bay area and by telephone focuses on individuals, couples, and professional supervision. Bonnie is a licensed clinical social worker in California (LCSW23697) and New York (R018841)