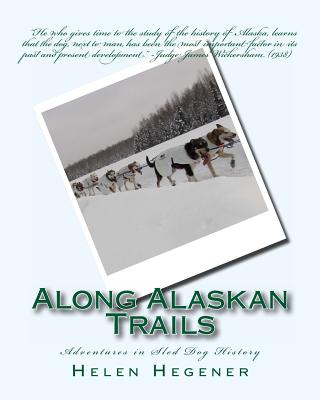 Along Alaskan Trails (Paperback)
Adventures in Sled Dog History
Northern Light Media, 9780984397730, 92pp.
Publication Date: June 23, 2012
* Individual store prices may vary.
Description
Along Alaskan Trails, Adventures in Sled Dog History, by Helen Hegener, is a collection of true stories about Alaskan sled dogs and the role they played in the development of the north, with dozens of historic photos from the archives of the Alaska State Library, the University of Alaska Fairbanks, and other sources. Among the tales shared in this book is the story of an intrepid Japanese musher who blazed a wide swath across Alaska, an Archdeacon who wrote the classic Ten Thousand Miles with a Dogsled, legendary mushers such as Scotty Allan and Leonhard Seppala, Arctic explorers like Ernest de Koven Leffingwell, and intrepid adventurers like Slim Williams and Mary Joyce. And the dogs From Baldy to Balto, Togo to Wolf, Chinook to Rembrandt, these are the dogs who blazed across Alaskan trails and into the history books. From the fiercely-argued conflict between sled dogs and reindeer, to the spooky apparitions along the Iditarod Trail, this book captures the fascinating stories of the dogs of the north.
About the Author
Author Helen Hegener lives in southcentral Alaska and writes about Alaskan history. Her previous books have included The All Alaska Sweepstakes, Yukon Quest Album, The Stained Glass Dog Team, and several others. When not working on book projects she enjoys watercolor painting, canoeing, and adventures with her family, friends, and Alaskan huskies.